The U.S. Federal Communications Commission is looking into last week's shutdown of mobile phone services on a San Francisco commuter train line.
The Bay Area Rapid Transit District, (BART) which carries close to 350,000 commuters each day, pulled the plug on mobile phone base stations operating in some of its San Francisco stations last Thursday in an attempt to disrupt a planned protest. The outage lasted about three hours.

The move sparked outrage by civil libertarians who said that BART's actions amounted to an infringement of free speech, and — because 911 mobile services were also cut — a threat to public safety. It also inspired action by the hacktivist group Anonymous, which posted what the members claim are files from a BART customer database in retaliation for the cellular service blockage.
Now the FCC is taking an interest, a spokesman for the federal agency said Monday.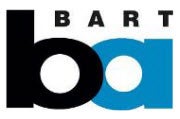 "Any time communications services are interrupted, we seek to assess the situation," said FCC spokesman Neil Grace in an e-mail. "We are continuing to collect information about BART's actions and will be taking steps to hear from stakeholders about the important issues those actions raised, including protecting public safety and ensuring the availability of communications networks."
Thursdays planned protest did not materialize. It had been planned in response to the July 3 fatal shooting of a knife-wielding passenger by BART police, the second fatal shooting by BART authorities in just over two years.
Robert McMillan covers computer security and general technology breaking news for The IDG News Service. Follow Robert on Twitter at @bobmcmillan. Robert's e-mail address is robert_mcmillan@idg.com