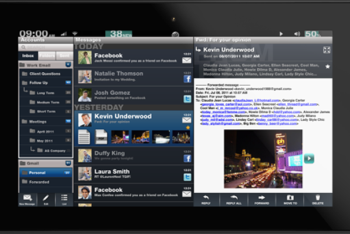 After a weeks-long teaser campaign that caused much chatter and speculation, Fusion Garage was revealed as the company behind the parody company TabCo. Fusion Garage made last year's failed JooJoo tablet, and the company disappeared off the radar after that product was withdrawn from the market. So is there room for one more OS in the tablet party? Fusion Garage clearly believes so, given the effort the company put into its big reveal, but the road ahead is going to be a bumpy one—even with Android app support. The software interface showed off today looks intriguing, but the hardware and price left us less excited.
Much less excited. Let's start with the price. Not surprisingly, the Grid10, as the Fusion Garage tablet is called, doesn't forge much new ground here—particularly when considering the Wi-Fi-only model The 16GB Wi-Fi model will sell for $499, same as the Apple iPad 2 and Samsung Galaxy Tab 10.1, and $100 more than the HP TouchPad; that same price can buy a 32GB tablet with the Lenovo IdeaPad K1. The 16GB Wi-Fi and 3G version will sell for $599, making it $50 less than the comparable Apple iPad, at least. Though it's unlikely that $50 edge is enough for someone to consider a Grid10 over an Apple iPad. Both models went on pre-sale today at Amazon.com, and both will ship September 15.
The raw specs are largely unimpressive as well. It has a dual-core 1.2GHz Nvidia Tegra 2 CPU, up from the standard 1GHz on all other Tegra 2 tablets to date; but its 512MB of RAM is half what every other Tegra 2 tablet has, which may explain the sluggishness observed in the webcast unveiling of the tablet. It also has 16GB of memory, and Wi-Fi 802.11 b/g/n, both standard features; and the HDMI ouput and microSD are good inclusions over some of the others. It measures 10.8 by 6.83 by 0.55 inches, and weighs 1.52 pounds, making it about the same thickness and weight as the average Android Honeycomb tablet we've seen. In other words, no real innovations here.
Of the specs, only the screen resolution impresses. At 1366 by 768, the Grid10 has the highest resolution 10-inch class tablet on the market. How in practice this will affect the display of apps on its screen remains unknown, though.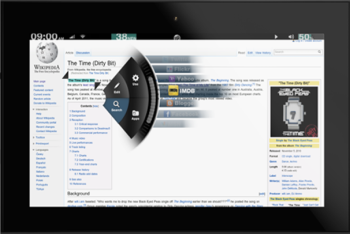 The other thing that caught my attention about the Grid10: The wheel-style navigation built into the GridOS. Fusion Garage's GridOS is built on top of an Android kernel, but has a very different interface and navigation. The OS can run Android apps for phone and tablet; phone apps will be centered, while tablet apps will appear scaled to full-screen, according to CEO Chandra Rathakrishnan, though how those apps will look on the display may be a wildcard. The jog wheel style navigation is not a new concept to me; I've seen variants introduced into some mobile apps, and into an Android multitasking widget on Lenovo's IdeaPad K1, and when I've used it, I found the ring helped me navigate more efficiently than the scroll in Android Honeycomb's "recently accessed apps." Whether this wheel-style navigation will be appealing on the Grid tablet remains to be seen in use.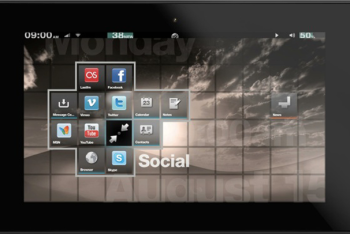 I also liked what was shown of the grid cluster structure that serves as the home screen alternative in the appropriately named GridOS. Grouping apps together appeared fairly easy, and tap to expand.
Such interface niceties may prove useful, and Fusion Garage has a bigger picture plan with its newly announced phone, too. But they have a tough hill to climb. Neither the pricing nor the specs/physical design appear to innovate (really, any advantage from that high-res screen and slightly pushed CPU gets cancelled out by the low memory and heavy, bulky design). Fusion Garage is far from a household name; consumers may be less likely to take a chance on a no name than on a tablet from a known quantity like HP. Android app compatibility will appeal to those who are more tech savvy; but if you're tech savvy, this may not be a fit for what you're looking for, either.
Ultimately, Fusion Garage's overproduced, faux press conference webcast; its clever and socially engaging parody campaign; and gimmicks like skywriting over San Francisco won't be what the company is judged by. The Grid10 itself will have to stand out in the crowd. And given the lack of Fusion Garage's mainstream name recognition, it looks as if the Grid10 will have to fight twice as hard as others to stand out, and even then it may not stand out for long beyond its 15 minutes of launch fame.