At a Glance
Expert's Rating
Our Verdict
The BlackBerry Torch 9810 improves on where the original Torch left off, but in specs it remains far behind the competition.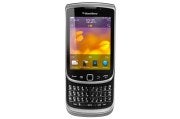 Last year RIM introduced the BlackBerry Torch 9800, a touchscreen/QWERTY-keyboard hybrid. Almost exactly a year later, the BlackBerry Torch 9810 ($50 with a two-year contract from AT&T as of August 16, 2011) has arrived.
Designwise, the two smartphones are pretty similar. The real change is in the software: The 9810 (along with the BlackBerry Bold 9900/9930 and the all-touch Torch 9850/9860) ships with the new BlackBerry 7 OS. However, although BlackBerry 7 OS is a big step up from the previous version, it still lacks a modern, cutting-edge feeling. On top of that, I noticed a few performance issues with the Torch 9810's browser.
Vertical Slider Design
Like the Torch 9800, the Torch 9810 gives you the best of both worlds: a physical keyboard and a full touch display. While the 9810 is almost identical in design to the 9800, it is slightly thinner, measuring 4.3 by 2.4 by 0.54 inches (as opposed to the 4.4-by-2.4-by-0.6-inch Torch 9800); it weighs 5.6 ounces, the same as the original Torch. The 9810 has a silver and black color scheme, which gives it a fun, flashier look in comparison with the mostly black and chrome 9800. I do prefer the textured rubber battery cover on the 9800 to the 9810's hard cover, which makes the 9810 feel plasticky and not as well constructed as its predecessor.
The slider mechanism feels sturdy and solid, and slides up smoothly to reveal the full QWERTY keyboard. The keyboard is pretty much identical to the original Torch's, as far as I can see. It's slightly wider, but you can barely tell from using it or looking at it. Nevertheless, it is a bit on the narrow side, so users with larger fingers might find it uncomfortable. Keys are sculpted and nicely sized, and include a handful of useful shortcut buttons. The Torch 9810 also has a software keyboard that you can use in portrait and landscape mode, but both variations feel pretty cramped.
The 9810's 3.2-inch 640-by-480-pixel display is an improvement over the original Torch's screen (3.2 inches, 360 by 480 pixels), but it still seems lackluster next to Samsung's Super AMOLED Plus displays or the qHD displays we've been seeing on the latest Motorola and HTC phones. It is also quite small by today's standards for touchscreen smartphones. If a larger screen is what you crave, the all-touch (no keyboard) Torch 9860 will fit the bill. The Torch 9810's display is powered by a technology (on all of the latest BlackBerrys) that RIM calls Liquid Graphics, which is supposed to give you a "smoother, more fluid touch experience." While I definitely noticed an image-quality improvement in moving from the 9800 to the 9810, I didn't exactly find the touch experience to be "fluid." I'm not sure if this was due to the processing power in the Torch 9810 or the software, but pinch-and-zoom in the browser stuttered, and scrolling wasn't as smooth as on other smartphones. On the bright side, I noticed less pixelation in images in a side-by-side comparison with the original Torch, and text looked sharper and easier to read as well.
BlackBerry 7 OS
As I mentioned previously, the Torch 9810 runs the brand-new BlackBerry 7 OS, which adds some much-needed enhancements to the BlackBerry operating system. Overall, however, I wasn't blown away by version 7, especially when I considered its aesthetics and performance. Some of the highlights of BlackBerry 7 OS include HTML 5 and support for tabs in the browser, a built-in augmented-reality browser, and spruced-up messaging features. For a more in-depth look, check out my BlackBerry 7 OS hands-on impressions.
Mediocre Camera
Honestly, I've never been fond of BlackBerry cameras–and unfortunately, the Torch 9810's 5-megapixel snapper is no exception. This is a feature I really wish RIM would address in its hardware enhancements, as more and more people use their phones to snap pictures. My indoor photos had a slight yellowish tint and looked a bit blurry, while my outdoor photos fared slightly better with brighter, more natural colors and sharper detail.
On the plus side, the Torch has a physical camera shutter button, a feature that every smartphone should have. I can't emphasize enough how much I prefer a physical shutter button to a touch button on the display; photos turn out so much better. On the Touch 9810 you also get autofocus, a 4X zoom, and an LED flash. The phone has some fancy new shooting features, too, such as scene modes and face detection, and it presents everything within a clean, easy-to-use interface.
I'm happy to see that the latest Torch boasts HD video capture at 720p, something that RIM overlooked in the 9800. Video quality looked okay, though it had the same yellowish tint I noticed on my still photos. It handled motion without pixelation (an issue I've noticed with other smartphone camcorders), but moving objects did get a bit blurry. The one annoying thing is that the BlackBerry camera software hides the video option in a menu, unlike the iPhone or Android camera interfaces (which allow you to switch between video and still mode by tapping an icon on the screen). You have to press the Menu key and then scroll almost all the way down to get to the video camera. RIM's decision to bury an important feature like this is completely baffling.
Performance
The Torch 9810 has a 1.2GHz processor with 768MB RAM, plus 8GB of on-board storage; it's expandable up to 32GB with a MicroSD card. Apps launched quickly, and the touchscreen was generally responsive. The main problem in my tests was the browser's performance. According to RIM, Web pages have a 40 percent faster loading time than in the BlackBerry 6 browser. This speed boost is definitely apparent–media-heavy pages loaded quickly over both Wi-Fi and AT&T's network. The browser's handling of pinch-to-zoom and scrolling was the issue: Sometimes pages went from small to extremely magnified in one pinch–magnification wasn't gradual. Pages also took some time to get unpixelated after I pinched. It was quite frustrating.
The Torch 9810 supports AT&T's HSPA+ network, the carrier's current version of a "4G" network (not its LTE network). I got pretty good reception everywhere I went in San Francisco. Call quality over the AT&T network in the city was good overall. Voices on the other end of the line sounded loud and clear; a few callers sounded a bit distant, but I could still hear them. My contacts could hear some background noise while I was standing on a busy city street corner, but they said it wasn't distracting.
Though we didn't formally test battery life, the Torch's battery life in my use was impressive. It lasted through a whole day's worth of testing, and still had about 30 percent left. BlackBerrys have generally have good battery life, and the Torch 9810 seems to be carrying on the tradition.
Bottom Line
Overall, the BlackBerry Torch 9810 is a little underwhelming. It isn't a huge step up from the original Torch, but HD video capture, the sharper display, and the updates in BlackBerry 7 OS are welcome upgrades. AT&T doesn't have many Android phones with QWERTY keyboards (with the exception of the HTC Status), so the Torch 9810 might be a good alternative–especially at the superlow price. But when you pit the Torch 9810 against other AT&T offerings such as the Motorola Atrix and the iPhone 4, it seems stale and boring. If you're an absolute BlackBerry fanatic, you'll be pleased with the Torch 9810, but possibly even more enticed by the BlackBerry Bold 9900 (also on AT&T), which has NFC support and a better keyboard.