Teambox (various pricing; free for small projects) is a useful, online project management tool well-suited for small to medium-sized companies that want to handle projects without going through a significant learning curve. It's simple enough that you'll be able to get up to speed on it quickly, yet still offers solid tools for people to collaborate on projects.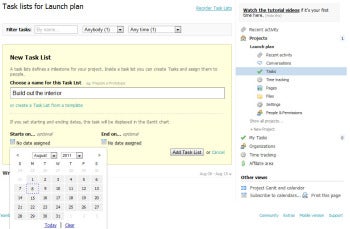 The Teambox site includes the tools you would expect in a straightforward project manager, including those for creating tasks, communicating with one another, tracking people's time, sharing documents, and more. Especially useful is the "People & Permissions" area, in which you invite people to participate in the project, and assign roles for them. So some people, for example, can be given read-only access, other people can participate, but not invite others, and still other people can be given full administrative controls, including inviting people and deleting comments.
Teambox can be used for multiple projects, and if you use the for-pay version, you'll be able to search across all projects as well. The free version allows you to manage three projects and have up to 50MB of storage for files. There are various for-pay plans, ranging from six projects and 200 MB of storage for $12 a month, all the way up to 100 projects and 50 GB of storage for $99 a month.
Teambox is simpler to use and less costly than a similar online project management tool, LiquidPlanner. However, it doesn't have some of the more high-end features, either, such as collating tasks and timelines to show conflicts.
Small and medium-sized businesses that don't have exceptionally complex projects would do well to give Teambox a try. It's not nearly as sophisticated as Microsoft Project–it doesn't handle dependencies, for example–but for most straightforward projects, it's quite useful.
Note: This Web software is available in various pricing plans. Up three projects and 50MB of storage space can be had for free; fees go up to $99 per month for more projects and storage.