At a Glance
Expert's Rating
Our Verdict
The BlackBerry Torch 9810 improves on where the original Torch left off, but in specs it remains far behind the competition.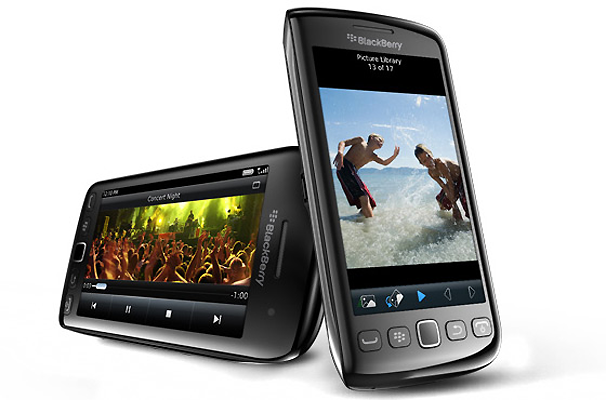 When BlackBerry 6 OS debuted last summer, I applauded RIM for making some much-needed improvements to the user interface and adding essential features to the platform. But I also thought that the platform was just a slight upgrade from version 5, and that it felt stale and dated in comparison with Android, iOS, and even WebOS purely on aesthetics. For the next OS update, I wanted RIM to take chances. The press is constantly accusing the company of failing to innovate, so why not surprise all of us jaded journalists and completely make over BlackBerry OS? Or how about giving the phones some of that QNX love we saw in the Playbook?
Well, brace yourselves: BlackBerry 7 OS looks a lot like BlackBerry 6 OS, at least in appearance and functionality. On the one hand, RIM has added excellent features, such as BlackBerry Balance, HTML 5 support, NFC support (Bold 9900 only) and a fun augmented-reality app. On the other hand, many of those additions are already found on other platforms. Once again, RIM seems to be playing catch-up.
One important yet unfortunate thing to note: BlackBerry 7 OS offers no "legacy support," meaning that older BlackBerrys, even those running version 6, cannot get an upgrade.
Home Screen and Apps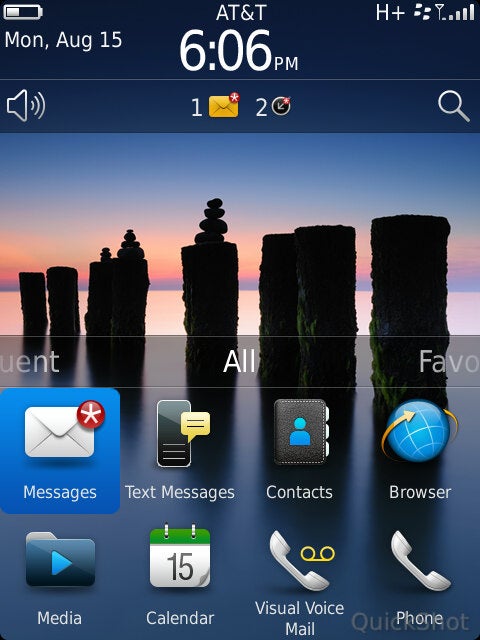 Other than some aesthetic tweaks, the home screen and apps drawer look pretty similar to their counterparts in version 6. The icons are more colorful, and the font is sharper and larger, but ultimately the look is still BlackBerry-esque–and that's not necessarily a good thing. While the home screen and apps arrangement is useful and easy to use, it is lacking in style and freshness.
Reminiscent of pre-2.0 Android, BlackBerry 7 OS has a vertically sliding applications drawer. You can slide it all the way up to view all of your apps, or slide it down to view none at all. You can also notch it to view one or two rows of apps at a time. I preferred to keep mine so that one row of apps was showing at all times, allowing easy access to the apps I used the most.
You can also slide apps horizontally and view apps filtered by categories such as Favorites, Media, Downloads, and Frequent. To add an app to your Favorites, you simply touch and hold the app's icon; a pop-up menu appears with that option and various others such as 'hide', 'launch', and 'delete'. These multiple views sound a bit excessive on paper, but I liked having some choice in how I set my home screen.
Browser and Universal Search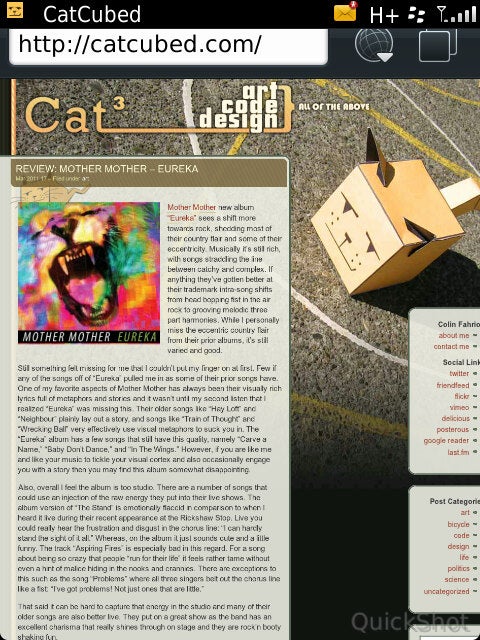 Last year, BlackBerry 6 OS introduced a WebKit browser, which was a huge upgrade to the platform. It also added pinch-to-zoom multitouch support, tabbed browsing, and autowrap text zoom (when you zoom in to a block of text, the font automatically wraps in a column so that none of it cuts off). This year, RIM has added HTML 5 support, but sadly it still hasn't incorporated full Flash Player 10 support. The browser played all of the HTML 5 video I threw at it, and it earned a mark of 230 on HTML5Test.com, an overall good score.
According to RIM, Web pages have a 40 percent faster loading time in 7 OS than they do on the version 6 browser. The speed boost is definitely apparent: Media-heavy pages loaded quickly over both Wi-Fi and AT&T's network when I tested the browser on the Torch 9810. My main problem, however, was with the browser's handling of pinch-to-zoom and scrolling. Sometimes pages went from small to extremely magnified in one pinch–magnification wasn't gradual. And pages took some time to get unpixelated after I pinched. It was quite frustrating.
With BlackBerry 6 OS, RIM introduced Universal Search. iOS, Android, and Windows Phone 7 all have universal search, but RIM's version is one of the more comprehensive implementations. It searches through your contacts, apps, music–just about everywhere on your phone. If you want to speed up the process, you can tweak the settings so that it searches only through specific parts of the phone. I found it quite fast, however, and I relied on it heavily to find what I needed in my hands-on tests. BlackBerry 7 OS now gives you the option to do a voice command, making universal search that much stronger.
Welcome to the Future, RIM: OpenGL, Augmented Reality, and NFC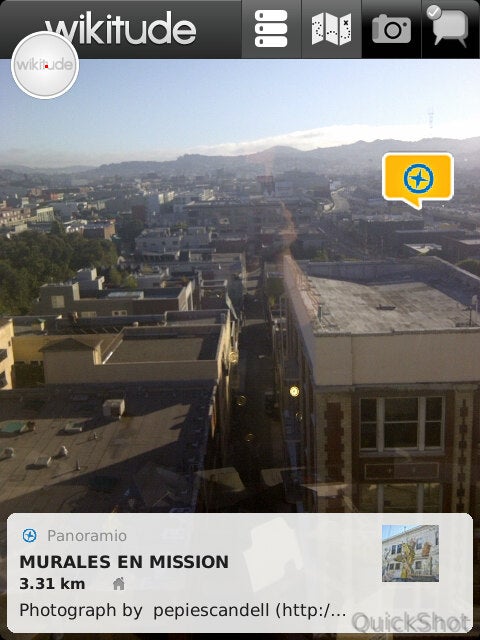 BlackBerry 7 OS adds support for OpenGL ES 2.0 graphics (for 3D games), HD video recording (at 720p), and a digital compass. BlackBerry is pretty much playing catch-up to Android, iOS, and even Windows Phone 7 with these additions. The platform does embrace two fairly new technologies, however: augmented reality and Near Field Communication.
We've seen augmented reality mostly on Android, in a few apps on iOS, and built into Windows Phone 7 Mango's Internet Explorer. RIM is making a big push for AR with its third-party-developed app Wikitude. Sort of like Layar or Google Goggles, Wikitude is a browser that melds the physical world with virtual information like Tweets, Flickr photos and Wikipedia information. Even BlackBerry Messenger gets a dose of AR: With Wikitude, you can see if any of your BBM friends are in close proximity to you. Using your phone's digital compass, you can point your phone's camera at a location and see any nearby BBM users and stalk, I mean, chat at them. If a contact has a personalized avatar, you'll see that pop up on screen. Incorporating the incredibly popular BBM into an app like Wikitude is a very smart move by RIM. I'm looking forward to seeing more BBM integration into third-party apps. Wikitude is a free download in BlackBerry App World.
I was very excited to learn that BlackBerry 7 OS adds support for NFC, but disappointed when I found that it would be available only on the BlackBerry Bold 9900. Still, it is great to see RIM embracing this up-and-coming technology, which will not only allow you to make payments with your phone but also exchange information (such as a phone number or photo) with another NFC-enabled phone.
BlackBerry Balance, BlackBerry Protect, and Other Apps
All 7 OS phones come equipped with BlackBerry Balance, which helps you maintain your personal and business life all on one phone. When connected to your company's BlackBerry Enterprise Server, Balance keeps personal information separate and business information secure.
The incredibly useful BlackBerry Protect lets you back up your data and manage multiple devices. If your BlackBerry gets stolen or lost, you can remotely locate it, wipe it, lock it, or change the volume of the ringer. Like Balance, this service is completely free for BlackBerry 7 OS users.
Last but not least, the premium version of Documents to Go is now available for free on all BlackBerry 7 OS phones. Users will now be able to compose, edit, and view Word, Excel, and PowerPoint files. This addition is just one more excellent business feature BlackBerry OS offers its enterprise customers.
Bottom Line
Playing catch-up isn't necessarily a bad thing: It shows that RIM is watching the competition and trying to remain relevant in this oh-so-crazy mobile world. BlackBerry 7 OS doesn't really add any groundbreaking, one-of-a-kind features, but it is a solid update all the same. The difference in performance between 6 OS and 7 OS is very apparent, and I'm excited to see where RIM goes with NFC.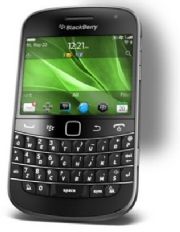 At the same time, I think BlackBerry OS is in dire need of a face-lift. I'm starting to get repetitive by saying this release after release, but its user interface doesn't feel modern. In fact, in some ways it reminds me a bit of Windows Phone 6.5. It looks like a non-touch OS with touch support added in. It still feels as if you have to dig through multiple menus to find what you want. For example, to switch from still images to video in the camera interface, you have to press the Menu key and then scroll almost all the way down through the options to get to the video camera.
To be fair, some very loyal BlackBerry OS fans are out there, and if RIM does try to do a complete makeover (like switching over to QNX OS à la the BlackBerry Playbook, which the company is rumored to do next year), it had better make sure that the redesign is perfect. Remember the disastrous BlackBerry Storm? RIM definitely does not want to go through that again. Apparently RIM has been playing it safe after that fiasco, but I think it is time to take another risk. BlackBerry 7 OS just barely keeps RIM afloat.