Google shook the mobile and tech industries on Monday morning with the news that it has agreed to purchase Motorola Mobility for $12.5 billion. The move is seen primarily as a play to acquire Motorola's formidable patent catalog, but it may not be enough to protect Android against ongoing patent litigation which raises some question about what the underlying strategy might really be.
On the surface, nothing will really change…if we take Google at its word. In a blog post announcing the Motorola acquisition, Google CEO Larry Page explains, "Motorola will remain a licensee of Android and Android will remain open. We will run Motorola as a separate business."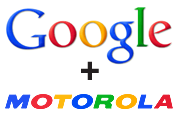 In support of this commitment to the Android ecosystem, Android partners including Samsung, HTC, LG, and even Best Buy have come out with statements commending the acquisition. The quotes are a tad creepy, though. They all sound alike–as if Google spoon-fed the statements to each partner and told them what to say. It seems a little like hostages making video statements under duress from captors.
What choice do they have, really? They are already heavily invested in the Android ecosystem, and all they can really do is cross their proverbial fingers and hope for the best. From the perspective of Android partners, it would be nice if Google would actually join the fray on the frontlines and actively engage in defending its mobile OS instead of leaving the individual Android device makers to fight patent suits one at a time.
But, despite the assertions and assumptions that this purchase is all about acquiring Motorola's patent portfolio to add to the arsenal Google just acquired from IBM and increase its stockpile in the current patent war arms race of mutually assured litigation, Motorola is already being sued by both Microsoft and Apple, and transferring those same patents to Google won't change the outcome of the pending lawsuits.
Florian Mueller, a technology patent and intellectual property analyst, details the current state of both the Apple and Microsoft patent suits against Motorola, and suggests that things may not go Motorola (or Google's) way. Mueller points out, "If regulatory scrutiny delays the closing of the acquisition, Google could end up buying a company that is formally enjoined from importing Android-based devices into the United States."
The reality that Google is buying an Android smartphone and tablet manufacturer and entering into direct competition with its Android partners also can't be ignored. When Google worked with HTC to create the Nexus One, the Google smartphone was also the first to get the latest version of the Android OS, and had a head start on competitors as far as developing a smartphone optimized to take advantage of the latest features.
Google claims that Motorola will be a wholly separate entity that operates just as it does now, and that it will remain on a level playing field with Android competitors. As comforting as that might sound to competitors today, it doesn't make any sense. If Google has access to its own smartphone and tablet development and manufacturing resources, it would be foolish not to capitalize on that to maximize the Android OS capabilities and create Android devices that deliver the best possible end-to-end user experience–à la Apple and the iOS ecosystem.
The move by Google is certainly huge news for the mobile and tech industries. I expect we're still in for some plot twists as the Google strategy for Motorola Mobility unfolds.