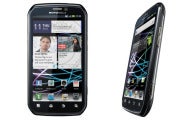 Sprint only launched its latest 4G smartphone, the Motorola Photon 4G, a week ago for $199.99 (with a two-year contract), but the price has already been cut.
Radio Shack is now offering the Photon 4G for just $99.99 with a new two-year Sprint contract. In fact, if you order the Photon 4G now, Radio Shack will even ship it to you via FedEx for free.
The 5.57-ounce Motorola Photon 4G comes packed with an Nvidia Tegra 2 processor, 1GB of RAM, and 16GB of on-board storage. The Photon runs Android 2.3 (Gingerbread), along with Motorola's MotoBlur service, and has an attractive 4.3-inch qHD display. Design-wise, the phone is a little different from most phones–it's got cut-off corners, which gives it a slightly octagonal shape–though it still has the standard Android touch buttons, the regular ports and jacks, and a dedicated camera button.
In PCWorld's review of the Photon 4G, our reviewers called the phone the best Motorola phone they've seen this year. According to our reviewers, the Tegra 2 processor works extremely well in conjunction with Sprint's 4G network.
In other words, the Photon 4G is one of the best phones of the summer–and now you can get it for just $100. Go check it out at Radio Shack.
Follow Sarah on Twitter (@geeklil) or on Facebook