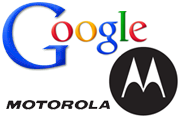 Google's buyout of Motorola Mobility is set to breathe new life into Android, but some pundits warn it could mean the platform's demise. A tough patent battle coupled with Google getting in the Android hardware business could make some Android partners such as Samsung and HTC migrate to Microsoft's Windows Phone 7 OS in retaliation.
With Motorola under its arm, Google is expected to better integrate Android with the hardware running the devices, one of Apple's major advantages with both the iPhone and iPad. Consumers get to win from the $12.5 billion deal, too, Dan Frommer writes on SplatF: "There is a good chance that Motorola devices will be much better than before, potentially delivering better, cooler technology at lower prices."
[Also see: 6 Products that Could Come from the Google-Motorola Deal]
Google insists that Motorola will remain an Android licensee, and won't get any favors over bigger manufacturers. But despite speaking united in favor of the Google-Motorola deal, it also "creates major channel conflict: Google is now competing with its partners," explains Henry Blodget for Business Insider. "The only reason Android (and Google) have any share of the mobile game, after all, is because hardware makers like HTC and Samsung adopted Google's software platform. And now Google is stabbing them in the back."
In a statement on the proposed deal, Nokia pushes the right button: "This further reinforces our belief that opportunities for the growth of Nokia's smartphone business will be greatest with Windows Phone. This could prove to be a massive catalyst for the Windows Phone ecosystem."
Forrester analyst John McCarthy blogged that he can already "hear Steve Balmer and company pitching the Asian players on how Microsoft is the only hardware agnostic player left and that HTC, Samsung, and LG should increase their support for Windows Mobile as protection against Google favoring its own hardware play."
ComputerWorld's Preston Gralla says pundits are wrong to think Android makers will simply throw themselves into the arms of Microsoft, for one main reason: "Android has become their bread and butter. The Motorola deal doesn't change that." Instead, "the purchase of Motorola may help Google's fight against Microsoft in one other way — to fend off lawsuits Microsoft has launched to try and kill Android."
Follow Daniel Ionescu and Today @ PCWorld on Twitter
Note: When you purchase something after clicking links in our articles, we may earn a small commission. Read our affiliate link policy for more details.