As the world's largest Internet registrar announced its rates for the XXX adult entertainment domain set to appear in December, reports began appearing of businesses complaining about being forced to buy domain names they have no desire to buy.
Rates for XXX domains announced by Go Daddy range from $99 to $209 for the first year of registration. After that, it's $99 to renew the registration.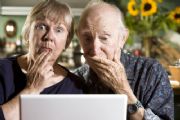 What's bugging many businesses about the new porn domain is that they're being forced to cough up $200 or so to protect their brands from being exploited by smut peddlers. In fact, initial returns in the UK indicate that four of five businesses that have pre-registered for the XXX domain have no relationship to the porn industry. Furthermore, ICM, which administers the domain, told Reuters that 900,000 "expressions of interest" from companies who want to pre-register their trademarks to block porn purveyors from using the brands in a XXX domain name.
Failure to block a domain at this stage of the process can be costly in the long run for a brand. That's because challenging a domain that's been awarded to someone can take months to resolve-months that the brand's image may be tarnished by an association with adult content-and, of course, thousands of dollars in legal fees.
Straight and narrow businesses aren't the only ones complaining about being forced to buy domains to protect their brands. Some porn outfits aren't too happy with the idea, either. Both Hustler and Manwin, one of the world's largest online porn companies, are refusing to pay for registering the dozens of domain names they already own as XXX sites. What's more they want ICM to protect their brands from XXX poachers for free.
In a letter sent in July to ICM CEO Stuart Lawley, Manwin argued that each of its preexisting domain names and trademarks have been "clearly communicated" and that ICM must "take steps to block any attempts to register any of them, or any similar misleading names in the XXX TLD."
Manwin added that it believes "that the onus is on ICM to honor and protect the rights of the adult content industry in their domain names and hopes that ICM will act responsibly to do so."
Hustler has taken a similar tack toward ICM. In July, it declared ICM is "prohibited from registering or selling to a third party any .XXX domain names that contain the famous Hustler trademark or other Hustler-related trademarks."
The skin mag's president, Michael Klein also complained about the XXX domain's impact on his industry's costs. "It appears that the .XXX TLD will do nothing but drive up costs to the adult community and will force us to fight infringement on yet another front," he told Xbiz.
Not everyone is being forced to pay to protect their brand, Reuters noted. The International Red Cross and International Olympic Committee receive special protection because of their international status, it reported.
Follow freelance technology writer John P. Mello Jr. and Today@PCWorld on Twitter.