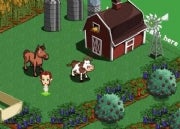 Zynga has acquired mobile games start-up Astro Ape, according to Business Insider, which notes that Astro Ape employees are changing their place of employment on LinkedIn.
According to Business Insider, Astro Ape CEO Chieh Huang has switched his profile info on LinkedIn, along with several other Astro Ape employees. Among the profile-switching employees are Astro Ape's director of engineering and several software engineers and graphic artists. An interesting twist, considering that just a few months ago Astro Ape was talking about how it was so much better than Zynga.
Astro Ape is a small New York mobile games studio that specializes in real-time social games, so it'll probably fit nicely into Zynga's family. Astro Ape's titles include Office Heroes, a social game in which your "farm" is an office, Dessert Heroes, and Monsterz Revenge. Zynga, of course, makes Farmville.
Anyway, nothing has been confirmed yet, but unless Astro Ape employees are playing a well-orchestrated joke on the social network that nobody really stalks people on, Zynga probably bought Astro Ape.
Follow Sarah on Twitter (@geeklil) or on Facebook