For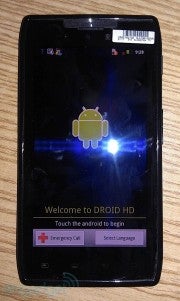 months, the Droid Bionic has been Motorola's most anticipated Android phone, but a new contender known as the Droid HD may be about to steal the show.
A tipster sent photos and specs of the rumored Droid HD to Engadget, revealing a thin touchscreen slab — noticeably thinner, in fact, than the upcoming Droid Bionic — with a 4.5-inch display. There's also an 8-megapixel rear-facing camera with 1080p video capture, plus a front-facing camera.
Other specs are unclear, but given the name, the Droid HD's jumbo display may pack a pixel count of 1280-by-720. And although the phone appears to be running Android 2.3 Gingerbread, I find it odd that it doesn't sport the usual set of capacitive navigation buttons on the bottom bezel. We've heard rumors that Android Ice Cream Sandwich may ditch physical buttons, so I wouldn't rule out next-generation Android software for the Droid HD.
Motorola's Droid Bionic also appeared in the leaked photos, sporting a blacker, boxier design than the Bionic that first appeared at CES in January. The Bionic was originally scheduled to launch in the second quarter of this year, but has been delayed several times and is now rumored to hit Verizon Wireless in early September.
Android phone makers will be bringing out the big guns this fall to battle the iPhone 5 and the resurgence of Windows Phones. In addition to Motorola's offerings, high-end Android phones are on the way from Samsung and HTC, and Google is rumored to be dropping a new Nexus phone as well. The resulting smartphone battle royal is going to be good.
Follow Jared on Facebook and Twitter for even more tech news and commentary.