Mozilla has more than a thousand changes under the hood of the latest version of Firefox, but only few provide worthwhile reasons for upgrading to the newest release of the browser.
All about the speed
The first reason is speed, although that point is debatable. According to Mozilla, startup times with Firefox 6 are better than its predecessor, especially if a user is using Firefox's Panorama feature. Panorama allows users to organize tabs into groups. Having Firefox launch several groups on startup has been a sure-fire way to bog down that process in the past.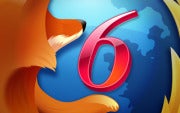 Any speed improvements over the sluggish performance of Firefox 5 is welcome news for users, but overall performance of Firefox's latest incarnation appears to be more problematic. For example, Dan Howley pointed out in Laptop magazine that Firefox 6 is actually slower than its progenitor when evaluated with a benchmarking program called Peacemaker.
Peacemaker evaluates a browser's performance using Java and assigns a score to it. The higher the score, the better the performance. Firefox 6 had a score of 4.572 when Howley ran Peacemaker on it. That's slightly lower than Firefox 5, which scored 4.733. By comparison, Microsoft Internet Explorer 9 scored 4.830 and Chrome got 8.400.
Benchmarking scores, though, can be deceptive, which may be the case with Firefox 6. It may score lower than the previous release of the program, but from a user's point of view, it feels faster.
URL display
Another reason to upgrade to Firefox 6 is the way it displays URLs in the address bar. The domain of a website is more distinct than the rest of its address. So in a URL like http://www.mozilla.com/en-US/firefox/6.0/releasenotes/, www.mozilla.com would be emphasized.
That's a feature that Chrome and IE9 have had for some time. While it seems like a simple addition, it's valuable for quickly spotting if a URL is questionable, as might be the case if a user clicks on larcenous link in a phishing message.
Security
Security is also bolstered in Firefox 6 with a new permissions feature. It allows a user to configure the permissions for a particular website by typing "about:permissions" on the address bar. With it, a user can configure such things as acceptance of cookies, location sharing, pop-ups, passwords and data storage.
Why is that a selling point for Firefox 6? It lets a user beef up the overall security of the browser, while letting the person remove restrictions on sites they trust. By choosing tough restrictions as the default security settings for the software, a user can be better protected against accidently visiting a malicious website and getting their computer infected with malware. Yet, users don't have to worry about the restrictions creating a barrier to productive use of trusted sites.
It's free
The fourth reason for upgrading to Firefox 6 is probably the least compelling, but also the most irresistible. Firefox 6 is a free upgrade to a favorite program. What more reason does a user need?
Follow freelance technology writer John P. Mello Jr. and Today@PCWorld on Twitter.