Skype is known primarily for providing Internet-based VoIP (voice over IP) calling, with video chat and conferencing a close second. You might not be aware that Skype also has a service to provide cheap Wi-Fi access at over one million locations around the world. Today, Skype revealed that Skype WiFi is now available for iOS devices as well.
A Skype blog post announcing the iOS app explains, "Skype WiFi is great for travellers all over the world: It's a must-have app, for your iPhone or iPad whether you're on a business trip or enjoying holidays abroad. Skype WiFi offers you a cost-effective and easy way to get online with an iPod Touch, iPhone or iPad. Paying on a per-minute basis for WiFi Internet access is great when you're abroad as you can avoid data roaming charges when you update Facebook, send a tweet, make a Skype call or upload photos."
I am not sure it's a "must-have app", but the app itself is free, so at the very least it's a "why not have?" app. The Skype Wifi iOS app lets globetrotting business professionals and jet setting travellers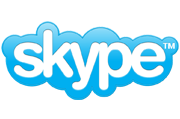 go online from an iPhone, iPad, or iPod Touch at hotel, airport, train station, convention center, bar, restaurant, and other Wi-Fi hotspots.
The app is free, but the service is not. Using Skype WiFi requires using Skype Credit. However, the service is quite affordable–especially when compared with the sort of prices that Wi-Fi hotspot services typically demand. The best part of Skype WiFi is that you it is billed by the minute and you only pay for the minutes you use instead of buying 15 minute or one hour blocks that you may not use. Skype WiFi rates start at only six cents per minute, and there are no data caps.
Those of us in Suburbia, USA don't really need a service like this. Not only is there a Starbucks or McDonald's every 100 feet or so with free Wi-Fi , but many other retailers provide free Wi-Fi, and ISPs like AT&T allow customers to also connect to their Wi-Fi hotspots free of charge.
However, the same can't be said for more rural areas, or in other countries around the world. Anyone leaving the comfortable confines of suburban America may want to arm their iPhone or iPad with the Skype WiFi app first.
In honor of the arrival of the Skype WiFi app, Skype is offering Skype WiFi service free around the world this weekend. From midnight Friday night until midnight Sunday night, you can use up to 60 minutes of free Skype WiFi service (separated into four sessions capped at 15 minutes each).