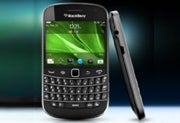 RIM's first 4G BlackBerry Bold 9900 goes on sale August 31 from T-mobile, the carrier announced Wednesday. The Bold 9900 comes with a host of improvements including a touch screen and a QWERTY keyboard, support for the NFC payment standard used in GoogleWallet, and of course the new BlackBerryOS7. You can read PCWorld's firstlookattheBold 9900 posted Tuesday for a full overview.
RIM has earlier pushedthereleaseofthe 9900 back to at least August in America. A few carriers in the UK have already released the 9900 but it looks like only one carrier will beat that predicted street date.
We're still waiting on release dates for Verizon T-mobile informed customers on Wednesday morning via a newpressrelease that the phone would be available at T-Mobile retail stores at the end of this month for $249.99 with a two year contract and a fifty dollar mail in rebate.
If you just can't wait for the new 9900 and you're a T-Mobile business customer then you're in luck. The phone is already available in an exclusive pre-sale right now. For customers on other carriers you might have more luck with RIM's similar 9930 model which Verizon has already released and has an expected August 21st launch on Sprint.