Social media played a vital and controversial role in the 2011 England riots that ravaged many London districts, as well as some smaller towns and villages. Though not everyone was logging into apps such as Twitter and Facebook to perpetrate destruction–many were using these outlets as portals for organizing cleanup activities and assisting police–most of the media's attention has been focused on the negative.
Courts are now handing down lofty sentences for those accused of inciting violence through social media channels. Jordan Blackshaw, 20, and Perry Sutcliffe-Keenan, 22, were each given four-year jail sentences for attempting to use Facebook to incite homegrown riots, even though nobody (except the police) showed up. Blackshaw's attorney alleged that his client had set up the Facebook event as a joke. This same defense was used–but successfully–for 19-year-old Joshua Moulinie, who used Facebook to encourage trashing a convenience store.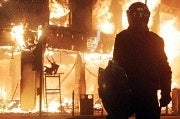 There are more questionably tough sentences coming through as well. As Mashable noted, one person was given a six month sentence for stealing a $5 case of bottled water. Another person–who did not personally indulge in rioting at all–received a five month sentence for "wearing a pair of stolen shorts her roommate gave her." A 20-year-old from Colchester, England, was arrested for organizing a harmless mass water gun fight on Facebook, a non-violent activity similar to the flash mobs that gather for huge pillow fights.
The problem here is not that criminals are being rightfully punished, but that the more we focus on the negative aspects of social media, the more we forget or dismiss the positive, such as the central roles Facebook and Twitter played in sparking important change in places like Egypt and Iran.
Should this trend continue, social media could be villainized the same way video games have been, for ages: inappropriately blamed for building violent sociopaths, despite the recent Supreme Court ruling that has finally given video games the same constitutional protections as other forms of art
There are so many new ways to communicate, with more coming all the time. We shouldn't start blaming social media–which is merely a channel–for an individual's bad behavior, or there will be no telling what it'll be blamed for next.