Microsoft's Office 365 and SkyDrive were hit by outages on Wednesday, with some customers saying they lost access to e-mail and other services for up to four hours.
Microsoft blamed a networking issue and said it had started to restore services Wednesday afternoon Pacific Time.
"At approximately 11:30 a.m. PDT, Microsoft became aware of a networking issue affecting customers of some Microsoft services hosted out of one of our North American data centers. We worked to isolate the issue and we are beginning to see service restoration. We continue to investigate the root cause of this issue," said Steven Gerri, general manager, Global Foundation Services for Microsoft.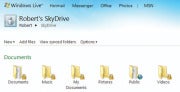 It wasn't clear exactly which services were affected, but both Office 365 and SkyDrive appear to have had issues.
"Connectivity issues to a North American datacenter have caused broad client access problems to a number of O365 Services. We are currently working to resolve this issue as soon as possible," Microsoft wrote on its Office 365 website.
Office 365, Microsoft's answer to Google Docs, is a hosted suite of services including e-mail, SharePoint, Office Web Apps and Lync. Office 365 came out of beta in late June, as a follow-on to Microsoft's Business Productivity Online Services.
Customers vented their frustration in an Office 365 community forum. Some complained they were unable to get help with troubleshooting the problem. "I've been trying to submit a service request for over 30 minutes and all I get is a spinning hourglass," a customer using the name Digital Dave wrote in the forum.
"Exchange has been down for perhaps an hour, maybe more. Can't do a service request online — odd. Also can't seem to find a phone number to call the guys at Microsoft — intentional?" another customer wrote.
The comments echoed those posted by beta testers who experienced an outage in May. They too said they had trouble with service requests. Microsoft has tried to set its service apart from Google's by promoting its live support services.
Microsoft also appeared to be having trouble with SkyDrive, its online storage offering. "We are aware of issues currently affecting some SkyDrive users and are working to remedy the situation. Thanks for your patience!" a Microsoft representative wrote on the SkyDrive Twitter feed.
Nancy Gohring covers mobile phones and cloud computing for The IDG News Service. Follow Nancy on Twitter at @idgnancy. Nancy's e-mail address is Nancy_Gohring@idg.com