At a Glance
Expert's Rating
Pros
Excellent keyboard
Slim, high-quality design
Sharp, bright display
Cons
Price is too high
Call quality is uneven
Our Verdict
The Bold gains a touchscreen, loses a few inches, and rocks an HD camcorder, but these features aren't enough to sway Android and iPhone owners–especially at such a high price.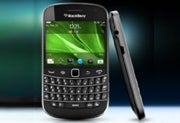 I reviewed the very first BlackBerry Bold 9000 way back in October 2008, so I was excited to get my hands on the latest addition to the Bold family, the pricey BlackBerry Bold 9930 ($250 with a two-year contract from Verizon, price as of August 17, 2011). The Bold design has come a long way, finally getting some touchscreen love while retaining that iconic QWERTY slab look.
But is adding a touchscreen enough to keep the Bold relevant in today's smartphone wars? If you're a longtime Bold owner or a BlackBerry fan, you'll love the 9930's updated appearance and new operating system. On the other hand, if you've been using an Android phone or an iPhone, the Bold probably won't catch your eye.
Thin Profile, Classic Design
At only 0.41 inches thick, the Bold 9930 is the thinnest of the series. Measuring 4.53 inches tall and 2.6 inches wide, the Bold 9930 feels quite nice in the hand, with solid brushed-metal edges, a glass face, and a glossy patterned back. The Bold series has always been the most fashionable of the BlackBerrys (well, the first Bold's leather back was a bit gaudy), and the 9930 is definitely no exception. The whole phone feels high-quality yet durable–which is gratifying given its hefty price.
The Bold 9930's keyboard is possibly the best physical phone keyboard I've used; it's the Bold 9930's biggest draw, in my opinion. Thanks to its sculpted keys and its guitar-fret-like dividers in between rows, I could bang out long email messages and texts–and flood my social networks–quickly, accurately, and comfortably, without any finger cramping. The keyboard is so roomy that even my larger-handed colleagues felt comfortable using it. You get a large spacebar and the usual BlackBerry Alt, Sym, Shift, and Speaker keys. Between the display and the keyboard, you'll find the Talk, Menu, Back, and Power/End physical keys. You'll also find the touch-sensitive trackpad, which is quite responsive.
The 2.8-inch, 640-by-480-pixel display is bright, sharp, and responsive. I can't help but feel a little strange when I use a touch display that small, but at least the trackpad and the display are both available. Unlike the new BlackBerry Torch models, the Bold 9930 does not have an accelerometer, which wouldn't really make sense on a display that small.
BlackBerry 7 OS and NFC
Like the Torch 9810 and the full-touch Torch 9860, the Bold 9930 runs version 7 of the BlackBerry operating system; for more details, read our full hands-on impressions of BlackBerry 7 OS. Although BlackBerry 7 OS is a lot faster than 6 OS, aesthetically it is very similar. One cool feature of the Bold 9930, however, is that it's the first BlackBerry to offer Near Field Communication support. When I spoke with RIM representatives last week, they informed me that the Bold 9930 is the first of many devices that will have NFC support, and that the company is working with developers in creating NFC-enabled apps for mobile payments and content exchange.
Camera
To some people, camera quality on a smartphone isn't a big deal. For me personally, however, it's huge. I don't always want to lug around my DSLR or even my point-and-shoot, so I want a phone that can take decent photos (or, at least, decent enough for Flickr or Facebook). Frustratingly enough, the Bold 9930's camera lacks autofocus, which is a must-have for high-end smartphones. Maybe RIM thinks that business users, which the Bold 9930 is geared toward, don't care about autofocus? But in my opinion, if you're paying $250 for a 3G BlackBerry, you should get top-of-the-line specs and features–and that includes autofocus. I've heard rumors that RIM dropped autofocus in the Bold 9930 to make the phone slimmer. Although I love how thin the handset is, I would take a few extra millimeters over blurry photos any day.
Fortunately, when you're standing perfectly still, photos taken on the Bold 9930 turn out pretty well. The 5-megapixel camera boasts a 4X digital zoom, a flash, and image stabilization (which almost makes up for the omission of autofocus). The phone also has some fancy new shooting features, such as scene modes and face detection, and it presents everything within a clean, easy-to-use interface.
The Bold 9930 also offers HD video capture at 720p, which is one of the big updates in BlackBerry 7 OS. Video quality was pretty good, but I noticed that the Bold 9930's camcorder struggled with fast-moving action shots. Quick-moving objects were immediately blurry and out of focus.
Performance
The Bold 9930 ships with a 1.2GHz processor, plus 768MB of RAM and 8GB of on-board memory (expandable up to 32GB via a MicroSD card). Overall, I found the Bold 9930's performance to be speedy and reliable. Apps launched quickly and scrolling was smooth, though pinch-and-zoom in the browser could have been more fluid. The effect wasn't nearly as bad as the pinch-and-zoom issues in the Torch 9810, but it still stuttered a bit with certain image-heavy websites such as PCWorld.com and TheBoldItalic.com.
Disappointingly, the Bold 9930 is just a 3G phone–not a 4G LTE device. It would have been awesome to have an LTE or WiMax BlackBerry this time around, but for now we'll have to be content with the HSPA+ BlackBerry Bold 9900 coming to AT&T and T-Mobile. Even so, browsing over Verizon 3G on the Bold 9930 was quite fast. Web pages loaded up quickly in the revamped browser, which now includes HTML 5 support.
Call quality, unfortunately, was hit-or-miss. Since Verizon's 3G network is very reliable in San Francisco, I always had reception and never experienced dropped calls while I was testing the Bold 9930. However, my friends' voices sounded a bit tinny and unnatural, and I noticed static on a few of my calls. My friends on the other end of the line reported that my voice sounded distant and robotic.
BlackBerrys generally have very good battery life, and the Bold 9930 seems to be no exception. Although we haven't formally tested the handset's battery life, it did hold up over two full days of heavy testing and data use, with about 35 percent of the juice left.
Bottom Line
Of the three new BlackBerrys coming out this fall, the Bold 9930 is definitely my favorite. The keyboard is superb, the phone's design and construction are pristine, and the new features in 7 OS, such as NFC and HD video capture, are a huge plus. BlackBerry fans will be delighted by the Bold 9930–but as I mentioned earlier, it doesn't have enough appeal to sway existing Android and iPhone users. On top of that, its price seems way too high, especially for a 3G phone. I'm looking forward to RIM's future QNX OS phones (which will run the same OS as the Playbook), but who knows when those models will come to market. Right now, the Bold 9930 and the other new phones are sufficient to keep RIM relevant in the smartphone arms race, but they won't help the company gain new customers.