Most people shopping for a color laser printer want one because they think it will print quickly, produce good-looking output, and cost less to run than an inkjet printer. But the sad evidence from our tests and research shows that for the cheapest color laser printers, the opposite is true: They tend to be slow, their print quality beyond plain text is mediocre, and their toner costs as much as (or more than) the ink for a comparable inkjet.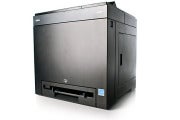 Slowpokes: It's virtually a guarantee–the lower the price of a color laser printer, the slower it will be. Two current $400 models, the Dell 2150cdn and the Oki Printing Solutions C330dn, managed decent speeds in our testing, reaching 15.1 pages per minute and 15.2 ppm, respectively, when printing text. You can certainly find color laser printers that are faster, but those speeds are about average for all the color laser printers we've evaluated. If you slide much lower on the price scale, you'll be drumming your fingers while waiting for your printouts to appear. On the same text-printing test, for instance, two current $230 models, the HP LaserJet Pro CP1025nw and the Dell 1250c, posted noticeably slower speeds of 11.2 and 7.5 ppm, respectively–the latter just half the average speed of all color laser printers we've tested. If you value your time, remember that the money you save on one of these printers you'll end up paying back many times over just waiting for prints.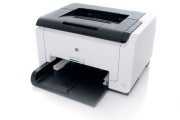 Lousy photos: Most color laser models still print inferior photos in comparison with inkjets, and cheap color laser printers are no different. The Dell 2150cdn's output was pretty good–after we fiddled with its automated and manual color-registration tools far longer than we usually have to. The Oki C330dn's color graphics showed noticeable banding and graininess, and cartoonish flesh tones. Photos from the HP LaserJet Pro CP1025nw looked dark and oversaturated. Only the Dell 1250c's color quality was impressively good.
Pricey toner: Buying toner for a cheap color laser printer is a bit like dining at a trendy new restaurant where you pay $30 for a plate with three shrimp. Cheap color lasers have the most expensive toner, which comes in low-capacity cartridges that print 2000 pages at the most.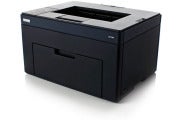 For instance, the Dell 1250c (as well as its cousin, the Dell 1350cnw) has the highest-cost toner of any color laser we've tested. The printer's standard toner cartridge prints just 700 pages. The black toner costs $50 (which works out to 7.1 cents per page), while each color costs $55 (7.9 cents per color, per page). A page with all four colors would cost almost 31 cents. Those prices look steep even when compared with the costs of a color inkjet printer.
You can buy cartridges for the Dell printers that will yield more pages. The costs of those versions are lower, but still onerous. The black toner lasts 2000 pages (3.5 cents per page), and each color lasts 1400 pages (5 cents per page). A four-color page would cost 18.5 cents.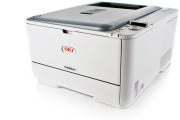 The situation isn't much better for other cheap color laser printers. The Dell 2150cdn's standard-size cartridges are very expensive, and its high-yield cartridges are just average in price. The Oki C330dn's toner costs are tolerable. The HP LaserJet Pro CP1025nw's toner cartridges cost more than average.
Is a cheap color laser printer a good deal for anyone? If you are patient, you print fairly little (no more than a few dozen pages per week), and you stick to simple color graphics rather than photos, a color laser might be a reasonable buy. But so would an inkjet–and it would generate better photos and might well cost less initially.
The color laser printers we've tested that perform the best–print quickly, produce nice images, go easy on toner costs–are designed for higher-volume situations, such as a workgroup in a busy office, and have higher purchase prices to match. Incidentally, Dell, the same company that makes the disappointingly slow and costly 1250c color laser, also makes our current top-rated models, the speedy 5130cdn and 3130cn.