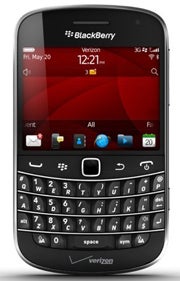 Research In Motion's latest BlackBerry Bold is thin, beautiful, overpriced, and still no match for its iPhone and Android rivals, at least according to the consensus among reviewers. The device is available in two models: the 9900, for GSM/UMTS networks; and the 9930, with support for CDMA networks, such as Verizon's, and GSM/UMTS.
The hybrid touchscreen device rocks the famous BlackBerry QWRTY keyboard, lost a few inches around the waist and can also record HD video, but these specs failed to impress the first people to play with the new phone.
Besides the fact it is running an OS that is already on its way out, the new Bold has one big caveat: it's price tag. It's more expensive than Apple's iPhone and top-of-the-line Android devices, and if you want to get one on T-Mobile's 4G network, you should be prepared to shell out $350 with a two-year contract — $100 more than a 32GB iPhone. But don't just take my word for it, here's what reviewers had to say:
PCWorld's Ginny Mies is impressed with the keyboard, design and construction of the new Bold, and "new features in OS 7, like NFC and HD video capture, are a huge plus," but said "the Bold doesn't have enough to sway existing Android and iPhone users." Mies reviewed the Verizon version of the new Bold, and at $250 with a two-year contract from Verizon, she thinks "its price is way too high, especially for a 3G phone."
"Turn it on and the vivid, bright screen looks as good as any on the market, iPhone included, and the touchscreen is responsive," writes The Telegraph's Matt Warman. He likes the improvements in BlackBerry OS 7, but "in the age of Windows Phone, iOS and Android is simply not good enough." In comparison to older models, "the Bold's simply a lovely, somewhat enhanced phone. From a few years ago," Warman wraps up.
SlashGear's Vincent Nguyen also believes "RIM is still left playing catch-up." Looking at the feature list of the 9900 Bold he reviewed, Nguyen says "it's hard to pick out any point which could convincingly persuade an iPhone or Android device user to jump across." The worst part, he says, "the situation is only going to get more difficult when the fifth-gen iPhone arrives."
"RIM's BlackBerry Bold 9900 is the company's best BlackBerry ever," concludes Jonathan S. Geller for BoyGeniusReport. But it's not all great news for RIM from Geller: "unfortunately, it's still a BlackBerry, and outside of the core areas where a BlackBerry still offers a competitive advantage like e-mail, for instance, I don't see a reason to pick this smartphone over an iPhone 4 or one of the latest Android handsets like the Samsung Galaxy S II or Google's Nexus S."
Reviewing for The Verge, Joshua Topolsky gave the Bold 9930 top marks for industrial design and the physical keyboard, but thinks "this is a die-hards-only phone, one of the last of its breed, meant for a very specific customer. For everyone else: until RIM can deliver a truly modern experience and bring developers to the table, I suggest you keep looking."
Engadget's Tim Stevens points out the Bold 9930 is just "the beginning of a transition — the last hurrah for an OS that isn't much longer for this world. Or maybe that's just us being optimistic." If you're not a BlackBerry die-hard, then he recommends you "wait for the next release of BlackBerry OS, which hopefully will bring something truly different to the table."
Follow Daniel Ionescu and Today @ PCWorld on Twitter