Despite having access to a catalog of more than 250,000 apps, the average Android user in the United States devotes most time to using the 10 most popular Android apps, a new Nielsen study says. The study also suggests Android users love their phones, spending an average of 56 minutes every day accessing the Web and using mobile apps on their handsets. And just like their iPhone counterparts, Android users overwhelmingly favor apps over the Web, spending less than 19 minutes (33 percent) of their daily Web/app time using a browser, according to Nielsen.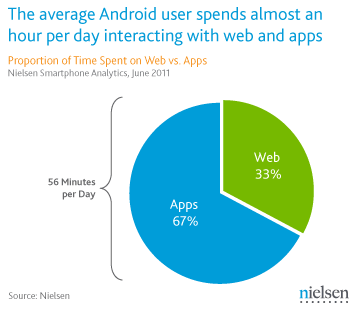 The findings are based on data from Nielsen Smartphone Analytics, a new research program that collects data from usage meters voluntarily installed on "thousands of iOS and Android smartphones." Nielsen does something similar for its television ratings. The company typically relies on surveys to gather mobile usage data.
Languishing apps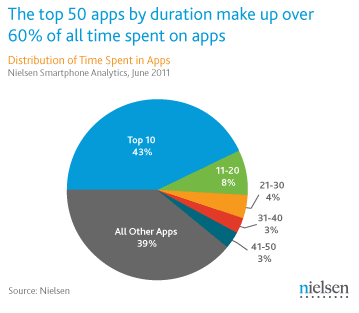 Despite the popularity of mobile apps, most are languishing in the Android Market without much attention. The majority of Android apps have to fight for just 39 percent of the average U.S. Android user's time, according to Nielsen. The top 10 Android apps claimed 43 percent of the average user's daily mobile app time, and the top 50 Android apps take up 61 percent of the average user's time. That leaves more than 249,000 Android apps scrambling for less than 15 minutes of daily usage time.
Nielsen determined the top 10 Android apps based on its own data, not on results published in the Android Market. According to Google the top 10 Android apps are YouTube, Facebook, Skype, Google Maps, Twitter, Adobe Reader/Flash, Angry Birds, Dragon Fly, Kindle, and Barcode Scanner to name a few.
It would be interesting to find out whether Nielsen's new analytics program found similar results for iOS users or if iPhone and iPad fans have more diverse tastes. However, Nielsen says it has no immediate plans to follow up with a post detailing iOS results.
Connect with Ian Paul ( @ianpaul ) and Today@PCWorld on Twitter for the latest tech news and analysis.