Searching your car's change compartment for quarters may soon become obsolete in New York City, where plans are underway to let drivers pay parking meters by cellphone.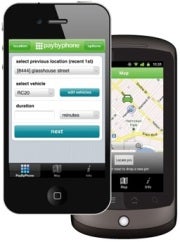 The city has put out a request for proposals for a pilot pay-by-phone program, which could be rolled out by the spring. The idea is to let motorists associate their phones with a credit or debit card, dial a number when they park and pay by increments over the phone. The system would be able to alert people when they're about to run out of time.
New York City wouldn't be the first to experiment with pay-by-phone parking meters. A company called Verrus offers pay-by-phone service in more than 30 U.S. cities and throughout Canada and Europe. Verrus even offers iPhone and Android apps that can quickly register new users and locate parked vehicles on a map. Washington D.C., currently operates the largest pay-by-phone parking system in the United States.
Still, New York City would be the largest city — and, some might argue, the city with the most ruthless meter attendants — to implement the service. According to the New York Post, the city is mainly trying to make parking more convenient for motorists, although there's also an ulterior motive: with each parking session tied to a specific account, an automated system can enforce hard time limits on parking spaces. Parking enforcers can also instantly check a meter to see whether the car is parked legally.
Despite the possibility of stricter enforcement, I'm all for this idea. All too often, I've either underestimated or overestimated the amount of parking time needed, and would love to refill the meter remotely by smartphone. My change compartment never has enough quarters anyway.
Follow Jared on Facebook and Twitter for even more tech news and commentary.