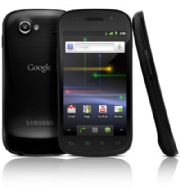 Those supersized versions of cell phone models you find in shops are pretty good at swaying people to buy a particular brand–who wouldn't stop to play on an oversized Android phone? But one Best Buy shopper decided that just using the demo phones as intended was a little dull, so instead he rooted it.
Wait, what?
Serial phone rooter Chris Ridgeway ("halfcab123" on YouTube) was waiting for his Nexus S to be repaired when he noticed the innocent 6-foot-tall Nexus S demo unit. Seeing as he had some time to kill, he decided to root the big Nexus. Sadly, he doesn't go into a lot of detail about how he rooted the phone, but he does show proof that it's rooted via Terminal Emulator–if you get the British pound symbol there, it apparently means your device is rooted. He did mention that it took a long time to reboot.
It's pretty fascinating, not only because it's a fun-sized phone that's got root, but also because he didn't get caught! What method he used to root it, we don't quite know, but if you want him to root your phone, he offers that service too.
Check out his video proudly showing his rootwork.
Like this? You might also enjoy…
Get your GeekTech on: Twitter – Facebook – RSS | Tip us off