Windows 8 is coming, and apparently its bringing a Windows 8 app store with it. Speculation that began with hints of an app store in leaked builds of Windows 8 earlier this year have been all but officially confirmed in a blog post from the President of Microsoft's Windows and Windows Live divisions, Steven Sinofsky.
To be clear, Sinofsky did not say, "Yes. Windows 8 will definitely have an app store component." What Sinofsky did was to list all of the various development teams currently working hard to create the next generation of the flagship desktop OS. It just so happens that one of the development teams on that list is "App Store".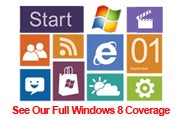 If you think about it, not only does a Windows 8 app store make sense–it's a virtual necessity. Why? Well, Microsoft has claimed that Windows 8 represents the most substantial revamp of the Windows user interface since Windows 95, and Windows 8 will be able to run not only on traditional desktops and notebooks, but will also be designed with tablets in mind.
In fact, Microsoft has touted a three screens approach that should deliver a consistent experience from smartphone to tablet to PC. Notebooks and netbooks are portable, but tablets and smartphones are mobile. If you look at any mobile platform–iOS, Android, BlackBerry, Windows Phone 7, WebOS–they all have some sort of apps and app distribution system.
While smartphones are still viewed as gadgets, and tablets are perceived by many as inferior devices not capable of "real computing", there is a convergence going on among all computing platforms. Apple has taken the phenomenal success of iOS and the Apple App Store, and merged the concept into its Mac OS X desktop OS with the Mac App Store.
One of the things that drives iOS loyalty is the fact that most apps work across all iOS platforms and that the app can be bought once and synced to multiple devices. Not only does that provide a measure of familiarity and consistency between platforms, but it lets you leverage your investment in apps across multiple devices and minimize costs.
Then there is the cost factor of the apps themselves. There are certainly cheap apps and expensive apps on any given platform, but in general apps in the Apple App Store are much cheaper than a desktop software application. The Office for Mac 2011–Home and Student version retails for $150. The similarly outfitted iWork suite is about half that cost at $80. However, the tools that make up iWork–Pages, Numbers, and Keynote–can be purchased in iOS app form for less than half of that still–$30.
Granted, the desktop packages have more robust and comprehensive feature sets, but you get what you pay for. A convergence of platforms should also drive a convergence of software and apps that results in something in the middle–tools that have less bloat and fewer features, but cost less and work seamlessly and consistently from smartphone to tablet to desktop.
That is what Windows 8 and the Windows 8 app store can bring to the Windows environment. The Windows 8 app store will change the way Windows software is developed and distributed.