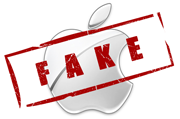 Apple has a growing identity problem. Just as it has been battling fake Apple stores in China, closer to home it has been quietly suing electronic retailers in New York City for allegedly selling Apple knockoff merchandise. According court documents unearthed by the Reuters news agency, Apple is taking a stand against two Queens, New York stores, Apple Story and Fun Zone, accusing both of trademark infringements.
The two stores, located in New York's Chinatown section of the city, are accused of selling allegedly fake iPod, iPhone, and iPad accessories. According to the lawsuit, Apple claims the two stores are selling products emblazoned with the Apple logo and trademark — "Designed by Apple in California. Assembled in China." Apple is also requesting that "Apple Story" change its name to ensure it's not confused with the actual store chain.
The suit was initially filed on July 25 against Janie Po Chiang and Jimmy Kwok, under a protective seal — so as not to tip off the alleged counterfeiters before seizure orders. The seal was broken Thursday evening, when U.S. District Judge Kiyo Matsumoto ordered the record be made public after a request from Reuters.
Judge Matsumoto granted Apple its initial request for a preliminary injunction to stop both stores from selling alleged knockoff merchandise, but has yet to rule on whether Apple Story has to change its name. According to Reuters, Apple doesn't only want to stop the stores from selling the goods in question, it also wants a complete list of people who purchased or sold alleged knockoff merchandise, an order to destroy those remaining products, and determine what triple monetary damages might be.
Apple's lawsuit also includes an "undisclosed number of individuals and businesses who made, sold or distributed the alleged counterfeit goods." There's no word on what, exactly this means, and Reuters suspects the individuals and businesses could include entities higher up on the alleged counterfeit food chain.
Follow Sarah on Twitter (@geeklil) or on Facebook and Today @ PCWorld on Twitter.