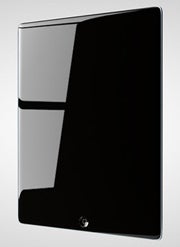 The long-rumored iPad 3 with a high-resolution display will go to trial production from October, in advance of an early 2012 launch, according to a Wall Street Journal scoop. The report (subscription required) quotes "people familiar with the situation" who say Apple has ordered key components for its next-generation tablet already.
The iPad 3 is expected to feature a high-resolution display, possibly dubbed Retina display, which would boast double the resolution of the current iPad display (2048 by 1536 pixels compared with 1024 by 768 pixels on the iPad 2). The screen size of the iPad will remain at 9.7 inches, meaning the pixel density would allow for better graphics on the tablet.
Speculation was rife earlier this year that Apple could release an improved iPad 3 this fall, mere months after the iPad 2 proved a hit with customers. With iPad 2 sales continuing at a brisk pace, there was, however, little need for Apple to refresh its tablet twice in a year, especially as competitors could hardly brag about their tablet sales. Later reports indicated a shortage of high-resolution displays for the upcoming tablet was to blame for a 2012 launch setback.
One component supplier, who was not named in the Journal report, estimated that Apple will try to produce some 1.5 million iPad 3s this year, with production running into next year, ahead of an official launch in "early 2012". Apple has not confirmed the existence of the iPad 3 or its launch date.
A separate DigiTimes report indicates that the high-resolution displays used in the iPad 3 are only available from Sharp, and Apple's other suppliers, like Samsung and LG, have not been able to deliver the needed screens. However, it seems Sharp hasn't been able to meet a low enough price point for the screens for Apple's requirements, which led to the delay of the (unannounced) launch from 2011 to 2012.
The quad-core A6 chip powering the iPad 3, and possibly next-year's iPhone model, is reportedly in trial production as well, and is said to be based on a 28nm process. That's an upgrade from the current A5 chip, which uses 45nm process. 3D stacking technology is also expected to feature on the chip, meaning two or more layers of components are stacked on top of each other.
Follow Daniel Ionescu and Today @ PCWorld on Twitter