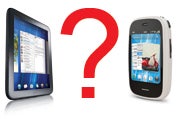 Hey, Hewlett-Packard, you're a real head-scratcher. Just 16 months ago you promise to change the mobile world by acquiring WebOS. Now, you've raised the white flag on that $1.2 billion buy. It's a lot of money, even for a mega-corporation. And $500 is a lot for buyers of your TouchPad or WebOS phone. You were just starting to market those products and then you throw in the towel. What were you thinking, HP?
We're all wondering about the fallout of yesterday's news that HP is abandoning the WebOS line. Here are my top ten questions about HP's decision and its implications.
What was the big deal with WebOS in the first place?
HP bought its way into the mobile market last year with the purchase of Palm and its OS. Palm fans were hopeful the brand and OS would live on through HP, and briefly WebOS and HP's Touchpad (which runs WebOS) looked like a viable challenger to the iPad in the tablet market, with its clean design, none of that Android fragmentation, and HP's marketing and manufacturing muscle behind it.
So why did HP kill it? We're still imagining the conversations at HP that led to the decision, but one thing is clear — in the month and a half that HP's Touchpad has been on shelves, sales have been dismal, even after multiple price cuts from HP. The latest round of Palm phones from HP have also failed to resonate with consumers, not that they had much chance — HP signed the death certificate for WebOS just a day after the Palm 3 phone with WebOS went on sale in Europe.
Do patents have anything to do with this? Probably not with the decision to kill WebOS, but now that its mobile operating system is over with — at least for now — the main value remaining from HP's billion-dollar purchase of Palm is in the patents that came with the company. Someone like Samsung might be willing to scoop up WebOS and those patents for a sizable enough amount to offset a big chunk of HP's losses on its mobile adventure.
Is WebOS just totally dead? Will someone else pick it up?
Operating systems do die, eventually. But they usually morph into something else a few times before finally disappearing for good. WebOS was already the product of one such transformation, and it's tough to say if it's got another life left in it.
The mobile market is really tough right now with two dominant OSes in iOS and Android, then with RIM and Microsoft nibbling at the edges and Symbian withering in a corner. Still, mobile is the growth market in hardware, so it wouldn't be too surprising for an enthusiastic upstart from an emerging market like China to take an interest in licensing or outright buying WebOS to get into the game.
Who wins here? Who wins when a person you were just getting to know goes away? OK, it's not fair to compare people to tech, but the point is that it's a tough question. Certainly not folks who just bought a Touchpad or Palm phone. Certainly not HP, at least in the short term. The natural thought is that HP's competitors win, but the truth is that the devices running WebOS were competing so poorly that few rivals are likely to notice WebOS is gone. HP's Touchpad was so similar to RIM's PlayBook that there's probably at least a few happy grins about WebOS's demise in Canada, but I don't expect the PlayBook to be around much longer, either. If some company ends up with Palm's patents at fire sale prices, I'd have to hand the trophy to them.
But what if you already have a TouchPad or WebOS phone? If that's you, you have my sincere sympathy. Oh, right — that doesn't help one bit, does it?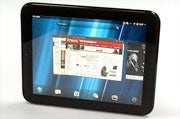 A Touchpad or Palm phone will work today, tomorrow, and the next day, but don't look for any improvements in your experience. No shiny new apps, features, or updates are coming your way anytime soon.
WebOS owners are likely locked in at today's level of functionality from this moment until they just can't stand it anymore. It's not quite a $500 brick, but it's almost as ugly a scenario.
Does this mean Best Buy will practically give away what's still in stock? Best Buy has been trying to get HP to accept its unsold stock of Touchpads. But I predict huge discounts on WebOS products from online and brick-and-mortar retailers, unless an army of Palm fans consider them collectors' items now. That might drive up the price, but probably not until the supply shifts from surplus to scarcity, which could be quite a while.
What does this mean for Android, iOS, and RIM? What would it mean for Coke and Pepsi if Jones Cola suddenly disappeared? Not much. That's the way things must look to Apple and Google right now, and, as I said, a slight chuckle may emerge from RIM headquarters, but that firm has its own problems.
Will WebOS really show up on home appliances? With every weird story there must be one little bit of super-weirdness. The day before the announcement of WebOS's demise, HP said it wanted to move the operating system into home appliances and cars. This sounds like the equivalent of a software liquidation sale, trying to wring some revenue from WebOS before it inevitably passes into the ether or changes hands. The auto industry is a notoriously tough nut to crack, but at least some Palm fans can take solace in the fact that their long-lost OS lives on . . . in the blenders of the future.
Should anyone really care about any of this? WebOS product owners and HP shareholders certainly have a legitimate interest, and probably not in a good way. For the rest of us, the loss of a big-name competitor in any market is never good news for consumers. It's a cautionary tale for early adopters and a bit of a buzz kill, but remember that IBM's exit from the consumer PC market wound up producing Lenovo, which now puts out decent stuff. Perhaps one day we'll be talking about how this week's HP news ended up creating the hip new mobile player of 2015.