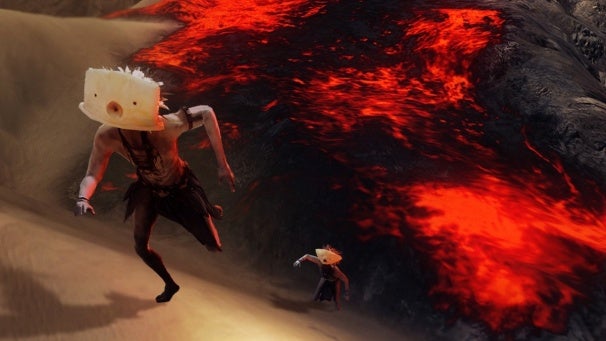 The PC version of Eric Chahi's exotic sandbox game From Dust is finally available for purchase after a three week delay, and if you're into solving puzzles and shepherding worshippers from village to village with the terraforming prowess of an all-powerful deity it's definitely worth a look. Unfortunately, despite being largely a single-player affair the game automatically connects to the Ubisoft servers to authenticate itself every time you boot it up. Once the servers have verified that you're not playing a pirated copy you're free to disconnect and play offline, but if you don't have access to the Internet you can't play From Dust. Period.
Ubisoft is notorious for handicapping their PC games with stringent DRM to avert piracy, and the company garnered massive amounts of negative press last year over their decision to require a persistent online connection to play the PC version of popular titles like Assassin's Creed II. Ubisoft relented later in the year and updated their Online Services Platform to only require online authentication when a player first loads a game, making it easier for those who live in regions with intermittent Internet access to play the games they paid for.
From Dust currently employs the same system, and it's a little frustrating to see Ubisoft demanding online authentication every time you start the game when the company previously claimed that the PC version would require nothing of the sort. Instead, a Ubisoft employee posted an announcement on an official Ubisoft forum promising concerned PC gamers that From Dust would only require a single online authentication check when the game was first loaded, and could be played offline from then on. This has been proven false, and while many game critics are up in arms about what they perceive to be blatant lying on Ubisoft's part the always excellent PC gaming blog Rock, Paper, Shotgun has a full account (including a screenshot of the fallacious post, which Ubisoft has since removed and replaced with this one).
The problem here is not that Ubisoft is requiring PC gamers to validate themselves every time they boot up a Ubisoft game — though that's certainly frustrating — but rather that the company has repeatedly and unapologetically misled their customers. Having played From Dust on XBox Live Arcade three weeks ago, I can tell you that it's an intriguing and gorgeous puzzle game masquerading as a god sim in the vein of Populous or Black & White. I don't think it's quite as fun or moving as Eric Chahi's classic PC platformer Another World, but it's definitely worth playing. Just don't buy it on the PC, because despite being delayed almost an entire month the PC port is reportedly riddled with bugs and poor graphical performance. Also, you'll need to be online or you can't play.
It's a real shame too, because other downloadable titles featured on XBox Live's Summer of Arcade have been ported to the PC with great success. Supergiant Games achieved critical and commercial success with their excellent action-RPG Bastion, and with support for high-resolution monitors thePC version looks even better. Even better, there's no DRM to speak of beyond a simple Steam login. Clearly it's not impossible to competently adapt great games to the PC, Ubisoft simply doesn't seem to respect PC gamers enough to bother.
What do you think?
Connect with me on Twitter @game_on