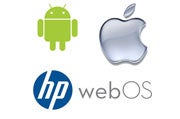 HP announced Thursday that it will discontinue its WebOS line of devices, which includes the HP Veer 4G, the HP Touchpad tablet and the yet-to-be-released HP Pre 3 smartphone. With the iPhone and Android phones dominating the market, is there room for another dominant operating system?
While the downfall of WebOS phones was a bit of a surprise, the phones were never quite able to win over consumers. The first phone to ship with WebOS, the Palm Pre, had a rocky journey beginning at its launch. A combination of factors, like bad marketing, faulty hardware and delayed releases prevented the Pre (and the other early WebOS phone, the Pixi), from being a viable threat against the iPhone.
When HP purchased Palm last year, there was some hope that the PC maker would be able to revive the platform. Sadly, HP didn't have the chops to keep webOS afloat in the highly competitive, fast-moving smartphone world. As dual-core 4G Android phones were flooding the market this year, HP was only able to churn out the Veer 4G, a tiny phone aimed toward 'tweens and smartphone newbies. The more promising of the two, the Pre 3, seemed was a better contender to compete with iOS and Android, never made it to market.
IDC predicted in June that Windows Phone 7 will eventually leapfrog the iPhone thanks to its partnership with Nokia. IDC predicts Android will have 43.8 percent of the market in 2015, followed by Windows Phone at 20.3 percent. Apple's iOS will trail at 16.9 percent.
But it is really difficult to predict what the mobile scene will look like in 2015, especially since Windows Phone 7 will only account for just 3.8 percent of the market by the end of this year, according to IDC. Like WebOS, Windows Phone 7 is a clean, full-featured and easy-to-use platform, but the hardware cannot compete with the iPhone 4 or the legion of high-end Android phones.
Additionally, there has been some marketing around the platform, but not enough to get users excited about any of the phones. Perhaps the next generation of phones, which will ship with the Mango update, will generate some more buzz around the platform. I think that Microsoft's sales strategy is a good one, however. Working with multiple handset manufacturers and carriers is a big driver in Android's success.
Outside of enterprise customers, RIM BlackBerry is struggling to hold on to users. This year, the once top-ranking vendor posted the lowest year-to-year growth of IDC's top 5 smartphone vendors (Apple, Samsung, Nokia, RIM and HTC). This week, RIM announced availability of three new handsets running the new BlackBerry OS 7. While they were solid smartphones in hardware and software, they were a bit underwhelming. In my opinion, RIM needs to take a page from Microsoft and rebuild the BlackBerry OS from scratch. Simply adding in updates here and there isn't going to cut it.
According to Gartner's latest quarterly report on smartphone sales, Android phones account for 43.4 percent of the market while iOS accounts for 18.2 percent. The two platforms have very different sales strategies, but both are incredibly successful—and pretty much impenetrable at this point.