Sure, HP's TouchPad fire sale could take sales away from low-volume tablet makers and further solidify Apple's market share. Then again, maybe those low-volume tablet makers–HP included–have been hurting themselves with a pricing structure that isn't attractive to most consumers.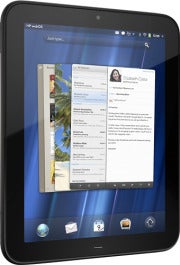 After dropping the TouchPad's price to $99 for the 16GB model and $149 for the 32GB variation, HP has sold an estimated 350,000 units this weekend. That's comparable to launch weekend sales for Apple's tablet. Granted, HP's tablet is discontinued and on clearance, but it shows that many consumers are willing to forget about the iPad if the price is right.
Here's the problem with the current system: Many entry-level tablets cost somewhere around $500 and that's the same price as the iPad. I'm guessing that most consumers who decide to spend $500 on a tablet will opt for an iPad. If other manufacturers want to be competitive with Apple's tablet, which is in many ways the definitive device on the market, they need to give consumers a reason to pick up their device instead.
That hasn't really been done until now.
HP's decision to offer its discontinued tablet for one-fifth the cost of Apple's tablet seems to have registered with many price-conscious and deal-hunting consumers.
Sure, I get that everyone likes a deal, myself included. (I picked up a TouchPad at my local Best Buy yesterday.) Obviously, HP's price drop is a unique situation that other tablet makers probably don't want to emulate, but maybe more thought should go into the tablet designing process than "let's make something like the iPad, that costs the same amount as the iPad."
If nothing else, the fire sale shows that there is a lot of consumer interest in tablets and a lot of missed opportunities by other tablet makers. Some tablets are available for less than $300, but few of them are mainstream.
(See also "How to Buy a Tablet.")