Last week, I looked at a great free app for Android, WiFi File Explorer, which lets you share files between your phone directly over a local Wi-Fi connection. This week, I'm looking at another great app that does all that and more.
While WiFi File Explorer is awesome for its simplicity, Geek Software's File Expert combines wireless sharing with an awesome file manager for your phone. Essentially, File Expert is like having WiFi File Explorer and ASTRO File Manager together in one app.
File Expert lets you browse, copy, delete, and move files around on your phone like any other file manager. It includes file viewers for text files and images. But more significantly, it offers wireless sharing similar to that of WiFi File Explorer, but with the added bonus of FTP support. So in addition to making your phone act like a little Web server that you can access from your PC's browser. You can also access it with tools like FileZilla for more robust management. File Expert also includes root support for users who rooted their phones, although this feature is still in development.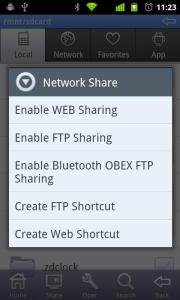 File Expert is a genuinely impressive app, though not nearly as mindlessly simple to use as WiFi File Expert. Between the two, if you're looking for foolproof simplicity that requires no thought whatsoever on your part, I'd suggest WiFi File Explorer. But if you want a ton of smart features for greater control over the files on your phone and the connection with your PC, File Expert is very hard to beat.
File Expert is free on Android Market, with no ads.