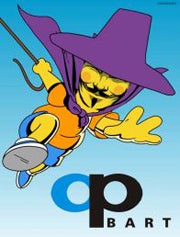 The Bay Area Rapid Transit (BART) warned San Francisco area passengers of possible service disruptions on Monday afternoon because of a second protest planned by hacker group Anonymous. The demonstration, dubbed OpBART, is scheduled to start at around 5 p.m. on BART's Civic Center station platform, which is the same place as ">last week's public outcry.
"BART may need to close some stations temporarily or make other service adjustments on short notice," the agency warned on its website on Sunday. It advises that "protesters may attempt to disrupt BART service during the afternoon commute period on August 22 in downtown San Francisco BART stations." Passengers can visit www.511.org for more information about alternative commute options.
The planned protest is the second of its kind backed by Anonymous, who hacked BART's website last week and posted the home addresses of 102 officers on the train system's police force. The hacker group argues BART should admit wrongdoing and apologize for cutting off cellular service in underground stations on August 11 to avoid a planned protest sparked by the death of a man shot by BART officers on July 3.
In a letter to customers, BART apologizes for cutting off cell phone service on August 11: "BART obtained credible information that led us to conclude that the safety of the BART system would be compromised. Out of an overriding concern for our passengers' safety, BART made the decision to temporarily interrupt cell phone service on portions of its system. We are aware that the interruption had the effect of temporarily preventing cellular communications for many BART passengers and their families; and we regret any inconvenience caused by the interruption."

Despite widespread criticism, the agency claims it has not violated its customers' right to freedom of speech: "BART's temporary interruption of cell phone service was not intended to and did not affect any First Amendment rights of any person to protest in a lawful manner in areas at BART stations that are open for expressive activity. The interruption did prevent the planned coordination of illegal activity on the BART platforms, and the resulting threat to public safety."
The Federal Communications Commission (FCC) confirmed last week it is looking into the cellular shutdown: "We are continuing to collect information about BART's actions and will be taking steps to hear from stakeholders about the important issues those actions raised, including protecting public safety and ensuring the availability of communications networks."
Follow Daniel Ionescu and Today @ PCWorld on Twitter