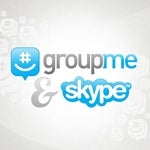 Skype announced it will acquire GroupMe, a group messaging smartphone app for Android, iPhone, Blackberry, and Windows Phone 7 that lets you create group texts, make conference calls, and share photos and your location. This is the second acquisition for Skype this year after buying video streaming service Qik in January.
Terms for Skype's GroupMe acquisition were not disclosed, but some estimates peg the acquisition around $85 million, according to AllThingsD. Skype is itself being acquired by Microsoft, which purchased the Internet telephony company in May for $8.5 billion.
For now, GroupMe will continue as a standalone application instead of being integrated into Skype's mobile and desktop apps, according to GroupMe's acquisition announcement.
But GroupMe features are likely to appear in Skype eventually. "This acquisition is another step towards our vision to provide a global multi-modal and multi-platform communications experience," Skype's CEO Tony Bates says in blog post.
GroupMe + Skype = All About Mobile
Mobile is the new battleground for messaging services, and GroupMe could help Skype bring features found in its desktop applications, such as group chat, to Skype's mobile products. Skype's mobile apps have so far stuck to the company's basic set of services including voice and video calling, SMS, and one-on-one instant messaging.
But basic messaging is no longer enough, and Skype will need to bring group messaging services to its products as similar services become integral parts of social networks. Google recently launched Google+, a new social network featuring a group video chat feature called Hangouts that is proving popular. Google+ also has a mobile group chat feature called Huddle that is similar to GroupMe's services.
Facebook recently launched a new mobile messaging app called Messenger that supports SMS-style messaging, but is likely to expand into video and group instant messaging in the future. Skype and Facebook also recently partnered on bringing one-on-one video chat to Facebook for Windows and Mac users.
GroupMe may help Skype add group features to its mobile applications to keep people from switching off the app for good and opting for similar features built into the social networks they use every day.
Connect with Ian Paul (@ianpaul) and Today@PCWorld on Twitter for the latest tech news and analysis.