Peter Thiel, the founder of PayPal and early investor in Facebook and Spotify, has an eye for finding big ideas and watching them grow. Now Thiel has invested $1.25 million of his $1.5 billion into the Seasteading Institute, a Libertarian group inspired by Ayn Rand's Atlas Shrugged that aims to build experimental floating societies in international waters.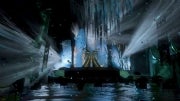 Sound familiar? You may have played this game before — it's pretty much the city of Rapture from BioShock.
The concept of the Seasteading Institute comes from Nobel Prize-winning economist Milton Friedman, whose grandson, Patric Friedman, founded the Institute. "Big ideas start as weird ideas," Friedman told Details magazine in its profile of Thiel. The idea is to build 2000-ton micro-nations suitable for 270 people that are diesel-powered and moveable that float on the ocean (rather than in the ocean, as with Rapture) and "give people the freedom to choose the government they want instead of being stuck with the government they get."
The floating micro-nations of the Seasteading Institute will hold true to Libertarian political ideals and ditch welfare and minimum wage, loosen building codes, and also remove many restrictions on weapons. Unlike BioShock's Rapture (which is more related to objectivism than libertarianism), there are currently no plans to create tinctures to super-modify genetics.
Friedman said he hopes to launch the first floating cities out off the coast of San Francisco by next year. I'll wait to see what the rent will be.