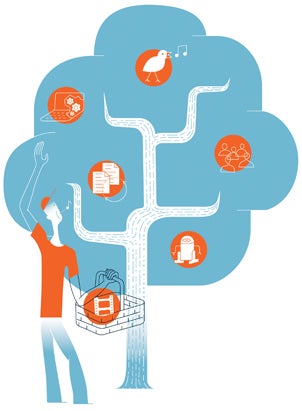 These free software gems are perfect if you're looking to push the limits of what you can fit into your day. Connectivity downloads will help you streamline your Internet connection and set up remote-control access to a second computer so you can be at work without being at work–or simply help someone from a distance fix a browser problem. Our free productivity software selections will help you get organized and move away from the infuriatingly complex and bulky Microsoft Office suite to lighter and more intuitive office programs.
A word to the wise: All of these downloads should work with Windows 7, and most will work with earlier versions of Windows, too; but always double-check the OS and system requirements of a program before making a home for it in your computer's memory. It's also not a bad idea to make a full-system back up and to create a new system restore point before installing each new program.
Connectivity
InSSIDer: Regardless of your home or office's size and shape, you probably have spots where your wireless network's signal is too weak. InSSIDer helps you check for network conflicts with neighboring wireless setups. Based on that information, you can adjust your wireless router until you've corrected the problem.
Mikogo: Trying to help someone with a computer problem over the phone without being able to see their screen isn't much fun. Mikogo is a powerful presentation and remote-control app designed for those situations. Mikogo requires someone to be present on both sides of the link to establish a session, so you can't set up unattended access and have your computer wait for a connection. But for showing someone how to do something, or presenting something to a group of people remotely, Mikogo is one of the best free screen-sharing tools available today.
Remote Desktop Connection: Built into every version of Windows from Windows XP onward–and downloadable for most other versions of Windows–Remote Desktop Connection handles remote access smoothly. Remote Desktop Connection Client for Mac 2 (also free) lets Mac users connect to Windows-based PCs so that they can get to files, applications, and other network resources; like its Windows cousin, it enables users to have their local printer output a document located on a distant PC. Additional features include the ability to play music from your desktop on a remote PC, redirect USB/serial ports, connect to memory cards on the remote PC, and share a clipboard. The app's only drawback is that it requires an open port on the firewall in order to access the remote host.
LAN Speed Test: Want to know how fast your network connection is? LAN Speed Test provides a reliable, free source of answers. The program shows results for writing to your disk (the equivalent of download speed) and for reading from your disk (the equivalent of up­­load speed). Run the test at different times of day for a realistic picture of your connection speed. Whether you're a network ad­­ministrator or a curious home user, LAN Speed Test will help you pinpoint when network congestion is at its worst.
Adblock Plus: This well-designed, two-part Firefox add-on quickly and easily blocks the vast majority of online ads. Adblock Plus consists of a free utility to halt images, scripts, and Flash, along with a free subscription component to manage and update its list of what to ex­­clude. If Adblock Plus misses an ad, or if you want to banish a nonadvertising image, you can right-click the image to add it to Adblock's disapproved list. A red stop-sign icon on the right side of the Firefox navigation toolbar offers a route to other options. Adblock Plus works smoothly right away, with no "figuring out" period required, and it provides advanced customization options for people who want to dig in.
Productivity
LibreOffice: Created in response to the recent split between Oracle and the OpenOffice.org community, LibreOffice is a brand-new spin on the free office suite. The software includes a word processor, a spreadsheet module, a presentation builder, a drawing pad, a database front end, and a simple equation editor. LibreOffice 3.3 offers strong support for Microsoft Office, Microsoft Office Open XML, Open Document Format, and PDF. Though the Document Foundation seems to have big plans for future versions of LibreOffice, this version focuses on consistency and compatibility. LibreOffice feels like a good, all-purpose office suite–similar in most respects to OpenOffice–and its portable version comes as a practical bonus for users on the go.
AbiWord: If your word processing chores are reasonably straightforward, try this freebie. AbiWord has a simple interface free of ribbons and multilevel menus, relying instead on clean icons and menus across the top of the page. Nevertheless, AbiWord handles images; mail merges; insertion of page numbers, date and time, and other automatic text; and tables. Its main limitation is that it can't handle the newest .docx Office file format. Still, AbiWord's simplicity makes it both a money saver and a timesaver.
Stickies: This free software packs a ton of features into its 1MB installer. Stickies lets you spread your to-do list across your desktop and arrange it in a way that makes visual sense to you. Stickies can contain rich text as well as images, and if you type [ ] (an open bracket followed by a close bracket), Stickies turns that entry into a checkbox so you can record when you've accomplished your task. You can set alarms for individual Stickies, and browse and search all notes, in­­cluding closed ones. If you've written sensitive in­­formation in a sticky note and want to make sure that it's gone, you should delete the information yourself, using your keyboard's Backspace key, prior to closing the sticky note.
Syncdocs: Even if you regularly use Google Docs for word processing and creating spreadsheets, you may feel more comfortable working in Microsoft Office on your desktop. To get the comfort of desktop editing and the convenience of keeping your files in the cloud, give Syncdocs a try. This program uploads and downloads your files in the background whenever it detects changes in them. If you collaborate with other users on your documents, Syncdocs can process the revision history and keep files and folders that others share with you synchronized as well. The only drawback of Syncdocs is that (like any other synchronization app) it leaves you at the mercy of your Internet service provider's data-upload speeds; and if your ISP is poky, you may find yourself waiting out some lengthy transfer times.
PrimoPDF: Use this download to create PDFs for screen viewing, printing, ebook creation, and even prepress composition. PrimoPDF sits in your printer list; when you "print" a document to it, the main Primo­PDF window comes up. The format options are simply laid out, and you can include document properties such as author name and keywords. You can even use 40-bit or 128-bit encryption to secure your PDF–useful if you're publishing an ebook that you'd like to protect from distribution or an internal document that you want only certain people to see. Another feature lets you decide whether users can print or copy the PDF's text and graphics, add comments, or alter its contents.
PagePlus Starter Edition: Microsoft Word's advanced formatting and layout features are far from intuitive, and a carefully laid-out document can easily and suddenly become a chaotic mess. PagePlus Starter Edition is a page layout and desktop publishing program that's infinitely easier to use for fancy designs with embedded images, flowing text frames, sidebars, and so on. Playing with the menus and options reveals a host of features, including different types of picture frames, free-form text paths, functional tools for inserting tables or calendars into text, and more. You'll notice some crossed-out menu items, however, indicating features that are accessible only in the full version. PagePlus Starter Edition borders on teaseware, but if you need a lot of control and flexibility within the confines of short documents, this download is an excellent tool for the task.