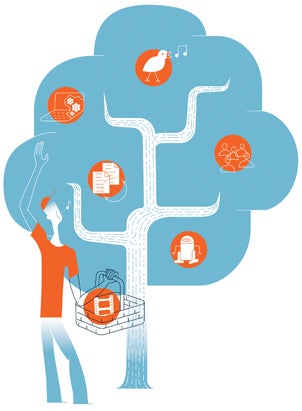 Keeping your social media contacts and mixed media files organized is crucial if you want to expand your computer's range from a word-processing, Internet-browsing device to a full-force entertainment system. Use these free downloads to keep everything accessible, from YouTube and Hulu videos to your Facebook friends. We also suggest some freeware for editing photos and music that doesn't skimp on functionality even though it costs nothing. Because what fun is social media if you can't photoshop lolcats into photos of your friends and share the results with them?
A word to the wise: All of these downloads should work with Windows 7, and most will work with earlier versions of Windows, too; but always double-check the OS and system requirements of a program before making a home for it in your computer's memory. It's also not a bad idea to make a full-system back up and to create a new system restore point before installing each new program.
Apps for Photos, Movies, and Music
Freemake Video Downloader: This free app rips a Flash video from online sources and converts it to the format you prefer for offline viewing. Freemake Video Downloader converts on the fly as it downloads, and it provides information such as file size and duration as it processes video. The app lets you rip video from MTV Networks video sites, such as those for Comedy Central, South Park Studios, The Daily Show, and VH1. It also works with Hulu–at least for the time being. Hulu has been known to release frequent security updates specifically to prevent downloaders or set-top boxes from viewing its content. (Freemake can't rip videos that Hulu plays from other sites, like Fox's Glee.)
Photo Pos Pro: Most photo editors make you choose be­­tween simple but ineffective and powerful but complicated. Photo Pos Pro, however, neatly balances power and usability. The download's interface is clean and intuitive, and you'll find every automatic editing tool you could want: red-eye reduction, automatic image sharpening or blurring, image warming or cooling, adding frames and special effects, and more. The package provides drawing tools as well, along with the ability to work in layers. For robust editing tools within easy reach, Photo Pos Pro is a great option.
FastStone Image Viewer: With the photo tools built into Windows, browsing through snapshots quickly becomes tedious. FastStone Image Viewer displays pictures lightning-fast and lets you look at them in your folders as thumbnail images. You can crop, rotate, and resize pictures; send them via email; or create slideshows. The program will also let you convert between file formats. One of FastStone Image Viewer's greatest strengths is that it can handle just about any graphic or photo file format you've ever heard of. In addition, you can use it to preview videos.
Songbird: Though it resembles the iTunes player, Songbird can do so much more. This open-source music player can play multiple audio formats, including Apple FairPlay-encoded audio and Windows Media DRM files. You can customize the player with third-party add-ons to alter its appearance, enhance the built-in browser's functionality, extend playback capabilities, add music-discovery features, and more. Note that Songbird lacks CD ripping, video support, and support for iPhone and iPod Touch. You may not want to use Songbird as your primary music player yet, but playing with its various add-ons is entertaining.
Audacity: The powerful, free, open-source Audacity can record sound and music as well as edit it–and the program offers a surprisingly substantial set of editing tools. In all likelihood, it has more horsepower than you need. It provides several dozen sound effects, has a capable mixer, and works with files in AIFF, MP3, OggVorbis, and .wav file formats. You can mix an unlimited number of tracks, and you can create "soundscapes" by generating sounds and mixing them. Audacity is great for people who want to play around with sound, as well as for more-experienced editors looking to put something together on the fly.
Apps for Sharing and Social Media
DestroyTwitter: Despite its name, this lightweight, AIR-based desktop client is all about enhancing Twitter. The app lets you do everything from changing the font size to adding new themes. If you want to filter out certain users and hashtags, you can do that, too. DestroyTwitter appears in a small window and lets you easily browse through new tweets, @mentions, and direct messages. By default, you get pop-up messages that alert you to new tweets, but you can disable them. DestroyTwitter's uncluttered interface makes it an excellent Twitter management tool.
Seesmic Desktop: This app is one of several that streamline your social media feeds by combining them in one place. Once you're past the installation for Seesmic Desktop, setup is simple: Just provide your social media logins and passwords when Seesmic asks for them, and it will automatically integrate them into multiple panes.
Windows Live Essentials 2011: This consumer-focused suite of free applications is Microsoft's flagship bundle of Web-based productivity apps for managing and sharing images online, editing video, and sharing documents and files between PCs. In addition, Microsoft announced that Dell will bundle Windows Live Essentials 2011 with computers that it sells during the holiday season. The applications in Windows Live Essentials include everything from Windows Live Photo Gallery (for sharing photos with your friends on Facebook, Flickr, SkyDrive, and SmugMug) to Windows Live Mesh (for syncing files and folders across your PCs and connecting back to your PC from virtually anywhere). Windows Live Essentials 2011 is surprisingly open in the way it works with and connects to third-party services such as Flickr and YouTube. Usually Microsoft gives the cold shoulder to corporate "frenemies" and encourages its customers to use Microsoft services exclusively. This update to the Essentials suite expands its reach beyond the Microsoft universe.