30 Days With Google+: Day 16
A good mobile app is crucial for social networking. Google has its own mobile OS with Android, but it still has to appreciate the fact that many Google+ users have iPhones and iPads, and provide the iOS platform with an app capable of delivering the Google+ experience on the go. For today's 30 Days With Google+, I am exploring the Google+ iOS app.
There is, in fact, a Google+ app for iOS. It is pretty slick too, but it took me a while to find some of the features.
There are only five icons on the main Google+ iPhone app screen: Stream, Photos, Circles, Huddle, and Profile. When I click on Stream, I see the main Stream which essentially includes all of the posts and updates from anyone I am following in any of my Circles.
Viewing Google+ Streams
By default, the Google+ app has the default Stream, Nearby, and Incoming. Nearby shows updates from people near me in a geographic sense, and Incoming shows updates from people who are following me, but who I don't have in any Circles. I can switch between the different streams by swiping left or right.
I don't find either of those message streams of any interest. Nearby could be interesting in some situations, but as for people following me–no offense, but if I wanted to know what they were posting I would add them to a Circle.
Thankfully, I can customize the Streams. In the app settings, I can remove streams like Nearby and Incoming that I am not really interested in, and add some of my Circles to make the app more useful for me.
I can tap and individual post to open it up and read it in more detail and see any comments on it. When zoomed in on a single post like this, there is a "+1" button at the upper right, and a text box at the bottom of the post if I want to weigh in with my own two cents on the post.
Posting to Google+
At the top right of the Streams view are two little icons–a check mark for checking in to Google Places, and a pencil for writing a new post. These little icons eluded me at first–leaving me wondering why the app seemed to have no means of posting new updates or checking in on Google Places.
When I tap the checkbox, I am presented with a list of the nearby locations that are already in the Google Places database. If the place I want to check into isn't already in the database, though, there doesn't seem to be any way to add a new location from the app.
After I select a location, I can choose which Circles to share my Google Places check-in with, add a comment to post with the check-in, and add a photo. There are two icons for photos–one to take a new photo, and another to add a photo that is already on the iPhone or iPad.
Clicking on the pencil icon to write a new post presents essentially the same input screen. There is a text box for typing a comment, a field for choosing which Circles to share the post with, a field that marks your location if you choose to, and the same two icons to take a picture or add one from your photo library.
Circles
Tapping Circles from the main Google+ screen brings you to the apps Circles interface. I can view the people in my Circles either alphabetically as a whole, or tap Circles at the top to view each of my Circles separately.
There is a Suggest People tab, and a search function so I can add new people to my Circles on the go. From within the Circles view, I can also add new Circles if I choose.
Photos
When I tap on the Photos button on the main Google+ app screen, I am presented with four thumbnails–From your circles, Photos of you, Your albums, and From your phone. Each one displays a slideshow of the available photos from the category.
At the upper right of the Photos screen there are also two icons, but these two icons are the two that appear at the bottom of the Places check-in or Google+ post entry screens. I can tap to take a new photo, or tap to add a photo from my iPhone or iPad.
I tapped on the "From your circles" thumbnail, and it opened up a screen with a bunch of smaller thumbnails of the photos that have been shared by various people within my Circles. Beneath each one is a little speech bubble square with a number next to it indicating how many comments have been left on that photo. This isn't my preferred method of finding photos from my Circles, but it is sort of interesting to be able to quickly identify which photos are generating the most discussion and jump in if I want.
Huddles
Huddles is a Google+ feature that is unique to the mobile client. A Huddle is basically a group chat function. You can start a Huddle with an entire Circle or Circles, or invite specific individuals. Those who participate in the Huddle can all see and participate in the dialog going on among the group.
This can be useful for a group of friends trying to figure out where to meet up for dinner, or for a team of co-workers to chat about a project. I haven't yet figured out why Huddles aren't available on Google+ proper, though. There is a chat function within Google+, and Google+ has Hangouts to facilitate group video chats, but it seems to me that being able to start a Huddle with a Circle or group of individuals has as much or more value from my PC than it does from my iPhone.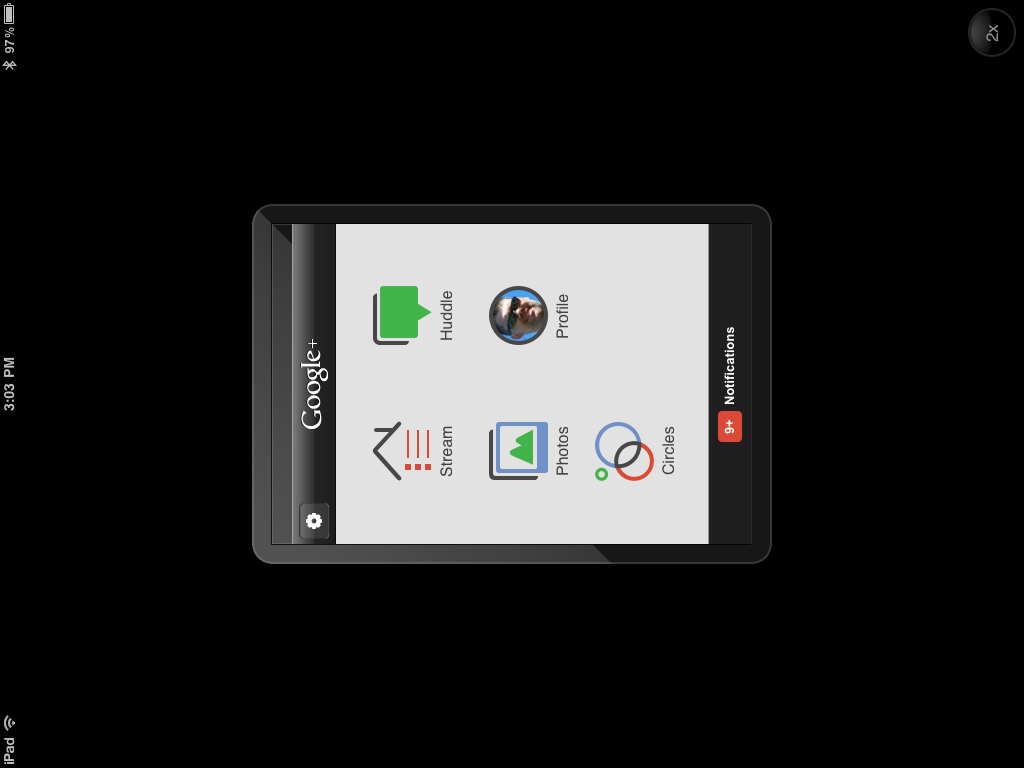 Define "iPad Compatible"
One thing the Google+ iOS app is not is "iPad compatible". When the Google+ app first hit the Apple App Store it would only install on an iPhone or iPod Touch. Later, Google released a new "iPad compatible" version with much fanfare and hoopla.
The problem lies in defining "iPad compatible". Being able to install an iPhone app so that it shows up as an iPhone-sized square that won't orient in landscape mode is significantly different than being iPad compatible in my opinion. What Google meant when it said the Google+ app is compatible with the iPad is that it revised the iPhone app so it would work like every other iPhone app.
By that measure, the Facebook iOS app is "iPad compatible" too. It still sucks on an iPad. Is it functional? Yes. It will work. It is better than nothing. But, to see the difference between an iPhone app running on an iPad, and an actual iPad app try running the iPhone version of Skype on an iPad, then look at the actual iPad version.
Read the last "30 Days" series: 30 Days With the iPad
Day 15: A Closer Look at Google+ Privacy