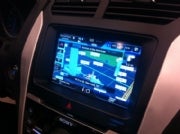 Ford and Toyota are teaming up to improve hi-tech cars by setting standards for telematics.
The two companies want to agree on ways to make car technology safer, more secure, and easier to use. Ford and Toyota won't be partnering with any consumer-facing products, however–instead, they'll use the standards in their own respective products, such as Ford's MyFord Touch and Toyota's Entune.
Auto-makers are notoriously behind-the-times when it comes to consumer technology, but lately they've been making more of an effort. For example, both Ford's Sync system and Toyota's Entune allow users to access and control a handful of smartphone apps using Bluetooth and voice command technology. Still, there are hundreds of thousands of apps available on modern smartphones, and so drivers may still be tempted to take their phones out of their pockets and use them while driving. For instance, while it's nice that both Ford's and Toyota's systems support Pandora, smartphones offer many other music apps that drivers might want to access.
For this reason, I hope the Ford-Toyota collaboration will focus on broader interactivity with smartphones. Technology is going to distract drivers whether we like it or not–and legislation hasn't proven to be a great deterrent. What we need are more apps that can operate by voice, and more cars that can control those apps directly. I don't know whether that's what Ford and Toyota are planning–their announcement is rather light on details, focusing mostly on their joint plans to develop hybrid vehicles–but I can't imagine any next-generation automobile that doesn't interact deeply with the phone in your pocket.
Follow Jared on Facebook and Twitter for even more tech news and commentary.