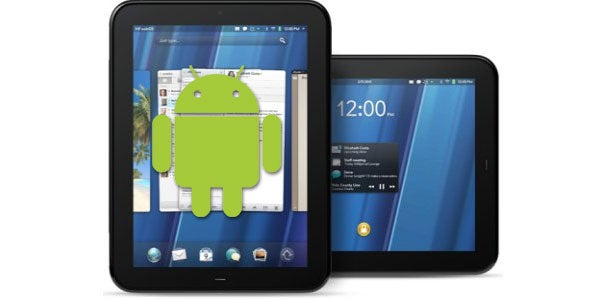 A bounty as high as $1500 is up for grabs to the first person to get Android running on HP's ill-fated TouchPad. Details of the contest were posted to the site Hack n Mod following a weekend of TouchPad price cuts and a rush by shoppers to snap up the tablet for as little as $99. As you many expect, following the seemingly sharp increase in the TouchPad's installed base, it wasn't surprising to see the hacking community get behind the abandoned device.
A similar effort to install the Android OS onto the HP tablet is underway by a group called TouchDroid. The TouchDroid team revealed plans to get the Gingerbread version of Android working on HP's 9.7-inch tablet Monday.
Unlike TouchDroid, the Hack n Mod offer includes cash prizes as an incentive. Hack n Mob will reward $450 to first person to port Android to the TouchPad. It pays $350 more if you can get Android Wi-Fi support to work on the TouchPad, $300 more for audio support, $300 if you can get the camera to work, and $100 for multi-touch support. See the Hack n Mod site for complete details.
If you have grabbed a TouchPad, will you be looking to put Android on it? Let us know in the comments.
Like this? You might also enjoy…
Get your GeekTech on: Twitter – Facebook – RSS | Tip us off | Follow Chris Brandrick