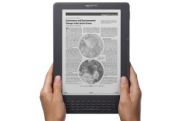 Readers who like to follow the bread crumb trails that gadget makers leave prior to the announcement of a new product might want to digest this morsel uncovered today in the whois registry: kindlescribe.com. This domain name, registered by Amazon.com Holdings, could be a tip-off that a stylus may be the future of the company's best selling e-reader.
In the past, the word "scribe" has been used to describe devices that use styluses rather than fingers for navigation and writing. For example, the HTC Flyer, a 7-inch Android tablet introduced in February, lets you draw and write on the slate with a stylus called the Magic Pen and an app called Scribe.
Ever since Kobo and the Barnes & Noble Nook introduced e-readers with E-Ink Pearl touchscreens, there's been speculation that Amazon might follow suit, or at least find a way to get rid of navigational buttons for the Kindle. A stylus could be part of this departure package. It would certainly make it easier to write notes in the margins of a Kindle book.
Wait Won't Be Long

The wait to find out what Amazon intends to do with kindlescribe.com may not be long. Another bread crumb is the price drop to clear inventory before a new model of a device is released. Earlier this month Amazon cut the prices of refurbished third-generation Kindle models to $99 (Wi-Fi version) and $129.99 (3G version). Even more telling: Kindle 2 accessory refurbs have also seen price cuts.
"The last time Amazon had such a refurb fire-sale was in the month just prior to the Kindle 3 launch, which could well indicate a similar situation is happening now," SlashGear's Chris Davies wrote in a blog post dated August 5.
According to speculation on the Internet, Amazon is preparing to introduce two new Kindles. One will be an upscale model with a touchscreen–and maybe a stylus–and the other will be a basic model targeted at students.
In addition to the new Kindles, it's been predicted that Amazon will also introduce two Android tablets–a seven-inch and 10-inch model–based on Nvidia processors. The smaller model will reportedly sport a Tegra 2, while the larger model will feature a new quad-core Kal-El. These slates are expected to be released in time for the holiday shopping season–but this is still just a rumor.
Follow freelance technology writer John P. Mello Jr. and Today@PCWorld on Twitter.