At a Glance
Expert's Rating
Pros
Surprisingly good audio for a netbook
Great keyboard and decent performance
Cons
No mobile broadband or 5ghz 802.11n option
On the pricey side for a netbook
Our Verdict
With its large hard drive and stylish design, the IdeaPad S205 offers a consumer-focused (but equally appealing) alternative to the excellent ThinkPad X120e.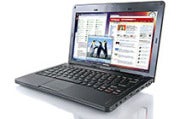 If you sometimes have difficulty sorting out Lenovo's ultraportable and netbook options, that's not surprising. Take the IdeaPad S205: On paper, it doesn't appear too different from the line-straddling ThinkPad X120e. Both sport 11.6-inch, 1366-by-768-resolution LED-backlit displays and integrated webcams, and both are configured with the AMD Fusion E-350 CPU running at 1.6GHz and 4GB of SDRAM. Their scores on our performance benchmark, as described below, are similar (and quite good for netbooks), as were their battery life test results (in hours:minutes, 5:21 for the S205, 5:26 for the X120e).
Pricing, too, is generally similar: The S205, configured as our review unit was, goes for $579, while the X120e we tested went for $529 as of August 16, 2011. (These review units were both top-of-the-line models; you can get cheaper configurations.)
Look a bit more closely, and you can see that the S205 sits more squarely in netbook territory than does the X120e. (Lenovo considers its X series notebooks as ultraportables, not netbooks, but the X120e's specs and performance are more in line with our definition of a netbook, as noted in our review.) For example, the S205's DDR3 SDRAM runs at 1066MHz, while the X120e uses the 1333MHz variety. Our S205 came with a roomy 500GB hard drive running at 5400 RPM; the X120e we tested had a smaller (320GB) but faster (7400-rpm) hard disk. The S205 comes with the 64-bit version of Windows 7 Home Premium, while the X120e that we tested had Windows 7 Professional. These differences may account for the S205's slightly lower PC WorldBench 6 score (55, compared with the X120e's 57), but the difference is so small that you would be unlikely to notice a performance variation while running general business applications.
You would, however, notice that both of these notebooks are significantly slower than just about any laptop with a current-generation Intel Core CPU. And the AMD integrated graphics don't really cut it for serious gaming: The IdeaPad S205 and the ThinkPad X120e's frame rates for Far Cry 2 were almost identical, topping out at about 20 frames per second at the low-quality, 800 by 600 setting and sinking to slightly under 9 frames per second at the high-quality, 1024 by 768 setting. In other words, these systems are a lot faster than those with Intel Atom processors, but still too slow for modern 3D gaming and slower than a low-cost Core i5 or the like.
But these numbers are pretty much in line with or even better than those of other top current netbooks, which, after all, aren't meant for hard-core gamers or serious number crunchers. And for more routine multimedia tasks such as watching YouTube videos or video chat, the S205 works just fine. The display is bright, and off-axis viewing is very good from side to side; not that shabby from above or below, either. Audio was unexpectedly robust for such a small portable, and the integrated 1.3-megapixel webcam delivers adequate, if not outstandingly sharp, images.
What's particularly impressive about the S205 (and the X120e) is how well Lenovo manages to fit a very usable keyboard into an admittedly cramped space. The sculpted keys and spacing all reflect Lenovo's continued excellence in the art of keyboard design. The S205 does not have the signature "eraserhead" ThinkPad joystick that you find on the X120e, but the small matte Synaptics touchpad feels responsive and reasonably precise.
The IdeaPad brand was created to give consumers an alternative to the ThinkPad's longtime corporate image, and this is most clearly reflected in the S205's industrial design. The shiny black case has a subtle pattern of differently sized squares that you can best see by holding the laptop at an angle under bright light. Inside, the matte surface is lightly engraved with fine lines, and a hard matte surface on the underside doesn't get too warm even after several hours of use.
The port array is pretty typical for a netbook. On the left edge, from front to back, you get an SD/MMC/Memory Stick card reader, a USB 2.0 port, and a VGA out port; on the right edge, the headphone and microphone jacks are conveniently placed toward the front, followed by a Wi-Fi on-off switch (a nice touch not routinely found in netbooks), an HDMI port, two more USB 2.0 ports, a security lock slot and a 10/100 ethernet port. The S205 supports 802.11n Wi-Fi on the 2.4GHz band–no 5GHz or mobile broadband support, even as an option.
The S205 comes preloaded with more software than you find on Lenovo's business models. Some seems useful, including the AMD Catalyst Control center, which, in addition to offering easy access to some graphics options, includes several system presets for various tasks and environments–for example, the air travel option turns off Wi-Fi and optimizes power settings to conserve battery life. Lenovo's OneKey rescue and recovery utility helps you create backup discs and restore your system using a special button on the right side above the keyboard.
I'm less enthusiastic about much of the other software. Lenovo Smile Dock places a taskbar containing nonessential buttons (most of them apparently linking to partner websites) on top of the already small desktop. I wouldn't want to depend on the VeriFace facial recognition software for logging in (especially without typing), and it seems Lenovo also preinstalls a couple of lesser-known communication services–PolkTalk for voice-over-IP calls and Oovoo for video chat (why not Skype?)–and a games link powered by Oberon. What's most annoying about some of these apps is that they present a license agreement without really telling you what exactly they are. There's nothing about them in the online user manual or printed setup documentation, either.
But you can uninstall the unnecessary apps–and overall, the IdeaPad S205 shapes up as a very appealing, somewhat consumer-oriented alternative to the ThinkPad X120e. While both are admittedly a tad pricey for a netbook, their superb design features and decent performance (for a netbook) justify the premium. Go with the S205 if you need a large-as-possible hard drive and don't care about mobile broadband.