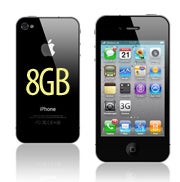 Apple has started manufacturing an 8GB iPhone 4 model that could be sold alongside the brand-new iPhone 5 this fall, according to a Reuters report. The 8GB flash drives for the low-end iPhone 4 are being manufactured by a Korean company, according to two people with knowledge of the matter.
Rumors of a low-end iPhone debuting with the iPhone 5 are not new. The idea of a scaled-down version of the iPhone being sold alongside a new model is not new either. Apple has been selling an 8GB iPhone 3GS at a discount alongside the iPhone 4 for the past year, so it's not going to be a surprise if an 8GB iPhone 4 hits the market this fall.
It's unclear for how much the year-old technology in an 8GB iPhone 4 would sell for. Apple sold the 8GB iPhone 3GS for half the price of the entry-level iPhone 4 ($99, then dropped the price to $49), so we could see a similar price drop this fall. According to Reuters' sources, the 8GB iPhone 4 is expected to "launch within weeks," which matches previous reports that the iPhone 5 would be announced at the end of September.
Details over the features of the iPhone 5 are still conflicting. Some reports indicate the iPhone 5 would be an incremental update (also known as iPhone 4S) with a better processor and camera, but sporting the same screen size and body, while others point toward a device with a larger screen and radically different design.
Follow Daniel Ionescu and Today @ PCWorld on Twitter