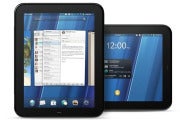 Snagging a discounted HP TouchPad has become something of a contact sport, as bargain hunters scramble to grab the discontinued slate for as much as 80 percent off. The tablets are flying off physical and online retail shelves, with only the quickest shoppers able to grab one. Waiting lists abound, and a number of retailers have started cancelling orders after discovering they had oversold their inventory.
[Related: Can't Snag a $99 HP TouchPad? Here Are 5 Alternatives]
I was one of the unlucky many who Barnes and Noble reneged on this week, but my quest for a fire sale tablet is far from over. Many outlets have yet to drop their prices on the TouchPad, while others are taking a see-saw approach, just briefly lowering the price.
Here are a few more sites to bookmark and keep an eye on to help you in your hunt for the now-mythical closeout tab.
Amazon.co.uk
Amazon's US site has yet to drop its price on the TouchPad. But when it does, the tablets will quickly go. The company's UK site is on a different continent, which means different warehouses and possibly better odds.
TigerDirect.com
Some folks on forums claim to have grabbed a $99 TouchPad from this discount retailer. The price currently says $399, but apparently it has been ping-ponging up and down. One rumor was that registering for an account on the site then drops the price, but that hasn't been the case for me.
HP Home and Home Office
Currently sold out, but word is that HP has another batch sitting in a warehouse somewhere that it will be making available soon.
Priceblink.com
This retail aggregator brings up a list of prices at a large number of outlets. It seems to update quicker than others like Google Shopping. It also comes as an extension for browsers like Chrome so you can install the extension and it will automatically keeps an eye on prices at the big name places for you.
Forums
There seems to be thousands of people who have spent most of the last week online searching for a cheap TouchPad and reporting back to one of two forums. I'd never heard of Hot UK Deals or Slick Deals before this week, but apparently it's where the big bargain hunters hang out. Keep an eye on the TouchPad threads to find out what sites have just dropped their price and then try to beat the rush to their servers. Good luck!