Lenovo's business-orientated tablet, the ThinkPad Tablet, is now available for order and should start shipping within a week. The 10-inch Android device, which Lenovo officially announced a little more than a month ago, boasts an impressive mix of consumer and business-friendly features that might please both you and your IT department.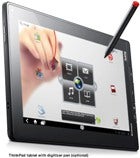 Like other Android 3.1 Honeycomb tablets on the market, the ThinkPad Tablet has a 1280 x 800 multitouch display, 1GB of memory, front- and rear-facing cameras and a NVIDIA Tegra 2 dualcore processor. It comes in a 16GB model for $499, a 32GB version for $569 and a 64GB option for $669. Basic specs and price-wise, the ThinkPad Tablet is on par with the competition.
What sets the ThinkPad apart, however, are the enterprise-oriented tools like remote administration in case the tablet gets lost or stolen, support for Cisco VPN, and full device encryption. Free apps included like Documents to Go, PrinterShare, and Computrace underscore the tablet's professional target audience.
Continuing with the ThinkPad laptop design style, Lenovo has also added physical keys for the browser, back button, home and screen lock. You can add a $100 keyboard case to add the optical TrackPoint that ThinkPad laptops are famous for. And there's even support for pressure-sensitive input with a $30 Tablet Pen accessory.
If you want a tablet more for work than for play, Lenovo's taking orders now at Lenovo.com.
Follow Melanie Pinola (@melaniepinola) and Today@PCWorld on Twitter