Skype, which Microsoft bought in May, said Monday it will buy the group messaging service GroupMe. GroupMe, created last year at the Techcrunch Disrupt Hackathon, went for a rumored $85 million, according to AllthingsD. For now, GroupMe will remain a standalone application, according to the company, but expect changes.
GroupMe messaging works by associating a number with each group. Users can text or push messages to that number, communicating with the whole group. You can use GroupMe as either a data or text-based service, and switch between the two. If you are at a concert or sports event where bandwidth is inaccessible, GroupMe will automatically prompt you to switch to the SMS version. Pretty nifty.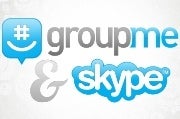 Skype has become a beloved communication tool, not just for free or inexpensive personal calls, but also for business communication. GroupMe, similarly, offers unexpected benefits to small businesses looking to save money and streamline communication.
1. Divvy Up Communication.
You can create groups across your entire company, for specific departments, or between select individuals who require instant communication at a given time. Take a hotel, for example, where many departments must facilitate the care of guests. A group could be based around a specific VIP guest, so all appropriate departments would be able to immediately handle unexpected issues concerning that guest. Even without an immediate communication objective, creating a group among individuals in and of itself will promote communication.
2. Save Money.
As noted above, GroupMe can work either as a data or text-based service. Texting is expensive and its fees can add up quickly, especially when you're trying to relay information to multiple people (which is a pain to do, one by one). But data messages are relatively much cheaper than texts, and you have that option.
3. Manage Groups Easily.
GroupMe's Questions feature lets you quickly direct a message to a specific group or individual. This gives you, as the boss, the capability to reach out to specific individuals in the group or to ask questions to make sure the group is on target. When you or any member wants to leave a group, just enter the code "#exit" and you're automatically booted out.
4. Make Quick and Easy Conference Calls.
There are no codes, and no remembering extra numbers. Just call your group number and everyone will be in on the call. It doesn't get any easier than that.
GroupMe may at first feel like a funny service to leverage for small business. After all, it was created and marketed as a feature that lets your buddies organize and goof off together.
But when you consider the utility of creating groups for instant communication across any number of departments or teams, you begin to see how valuable GroupMe for business can be. Oh, and I forgot to mention, it currently works in 90 countries. So if those departments or teams are around the world, you can do that, too.