At a Glance
Expert's Rating
Pros
Automatic duplexing
Wireless connectivity
Low purchase price
Our Verdict
Automatic duplexing and wireless make the HL-2270DW a more-than-basic laser printer, but its toner costs are high.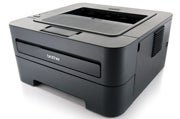 The Brother HL-2270DW monochrome laser printer costs $150 (as of August 19, 2011)–a very low price, especially considering that it includes Wi-Fi. The small or home office that might consider this model, however, should note that its toner costs are on the high side.
The HL-2270DW supports USB, ethernet, and wireless connectivity. The CD-based installation procedure is well documented and progresses smoothly.
The minimal control panel merely offers a bunch of blinking LEDs; to Brother's credit, though, they're labeled with words. The sole button is labeled 'Go'–a somewhat confusing name, as its tasks range from waking up the printer from sleep mode to canceling a job to disabling wireless.
Paper handling includes automatic duplexing (two-sided printing), a somewhat bendy 250-sheet input tray, a 100-sheet output tray on top, and a front manual-feed slot discreetly hidden behind a shiny logo panel.
The HL-2270DW performed adequately in our tests. Connected to a PC, it printed monochrome pages consisting primarily of text at a below-average rate of 17.5 pages per minute, and a small, simple photo at a middling 5.9 ppm. Mac speeds were about the same: 17.7 ppm for monochrome text, and an above-average 6 ppm for four pages of mixed text and graphics in a PDF file. Graphics quality was slightly rough and grainy, but acceptable.
You flip open a front panel to reach the printer's consumables. The toner and drum components are separable, but you must remove them together, using a handle that would be easier to find if it were a color other than black. A green (thank you, Brother) lever releases the toner from the drum. Since the drum lasts a lot longer than the toner cartridges do, having to drag out the drum every time you want to replace the toner is somewhat annoying.
Toner is expensive. The HL-2270DW ships with a 700-page starter cartridge of black toner. The standard-size replacement costs $38 and lasts for 1200 pages, which works out to a high 3.2 cents per page. High-yield black toner cartridges cost $55 each and last for 2600 pages, for a higher-than-average 2.1 cents per page. The $81 drum unit, when replaced after about 12,000 pages of use, will add less than a penny to each of the next 12,000 pages.
Want a little bit more for a price that's still low? Check out the HL-2270DW's close cousin, the $200 Brother HL-2280DW, which tacks a color scanner onto the top of the same machine.