Tablet headlines have been dominated for the past week by the sudden demise of the TouchPad, and the subsequent fire sale by HP to clear out inventory. But, just because HP is bailing on the tablet industry doesn't mean the world has come to a halt. Today, Lenovo launched its ThinkPad Tablet–an Android tablet with more of a business focus than some of its rivals.
Despite the fact that the Apple iPad is being tested or deployed at 86 percent of Fortune 500 companies, and that businesses of all sizes have found innovative ways to use the iOS tablet in uniquely productive ways, there are still those who will argue that the tablet is a consumer gadget incapable of meeting the needs of business professionals.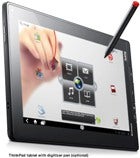 Lenovo–makers of the venerable ThinkPad line of laptops–hopes to change that perception with its more business-oriented ThinkPad Tablet. Here are four reasons that the Lenovo ThinkPad Tablet stands out as a better tablet solution for businesses:
1. Standard Ports. The ThinkPad Tablet has a full-size USB port, a full-size SD memory card slot, and a mini-HDMI port. The availability of standard ports makes it easier to connect and work with the peripherals and other devices already on hand rather than having to invest in tablet-centric equivalents or fancy adapters just to connect to standard devices.
2. Bundled Apps. Lenovo is trumpeting the productivity and security aspects of the ThinkPad Tablet. The reality, though, is that most of the productivity and security tools included with the ThinkPad Tablet are really third-party apps that are bundled with the device.
Apps like DocumentsToGo for reading and editing Microsoft Office files, or Good for Enterprise that provides IT admins with the tools to configure and maintain security profiles on remote mobile devices help set the ThinkPad Tablet apart from the competition out of the box. Other tablets can be outfitted with these same apps, but at an additional cost.
3. Security. The ThinkPad Tablet also comes armed with CompuTrace to combat theft and enable IT admins to remotely wipe or disable the tablet. Data on the ThinkPad Tablet is fully encrypted–including any data stored on the SD memory card.
4. Lenovo App Store. The ThinkPad Tablet uses the Android mobile OS, and–as such–has the entire library of 250,000 plus Android apps available to it. However, Android is also the most targeted mobile platform in terms of malware thanks to its open nature and lack of controls on app markets. For safer, more secure app downloads, Lenovo has its own curated app store with apps that are certified to work properly with the tablet and be malware free.
The tablet is not officially available until August 29, but Lenovo is accepting pre-orders. The Lenovo ThinkPad Tablet starts at $499 for the 16GB version, and also comes in 32GB for $599, and 64GB for $699. An optional portfolio case with physical keyboard is available for $100.