The latest mysterious Google doodle honors what would have been Argentine author Jorge Luis Borges' 112th birthday. Aside from being a pioneer in the genre of magical realism, Borges also imagined some of the foundational concepts of the Internet, such as "hypertext," long before the dawning of the digital age.
Borges' short story, "The Garden of Forking Paths," can be read as a metaphor for many things, including the entire universe, but the notion of forking paths is in line with the modern Web experience, with divergent paths leading users through a wild jungle of information.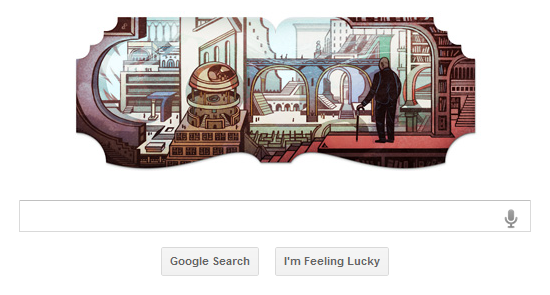 Borges was a huge fan of books, libraries and information in general. In one of his stories he imagined the horror of a massive library with an infinite amount of information that is devoid of any system of organization, rendering the entire facility useless. This is where Borges' visions align with Google's. Since the company sees its mission as organizing the world's information, it's likely that Borges would have been a huge Google fan had he lived long enough to meet the World Wide Web. He died in 1986.
The Borges doodle is the latest in a serious of scientific and cultural innovators to be honored by Google. This summer has also seen doodles for geneticist Gregor Mendel , mathematician Pierre de Fermat and guitar pioneer Les Paul.
Related Slideshow: 20 Notable Google Doodles
The doodle shows an elder Borges with cane standing in his beloved library, staring out the window at some of the characteristically fantastical and futuristic worlds of his own creation. Fittingly, the Google logo is tucked into the picture as always — fitting because the search engine is yet another concept he may have helped to create.