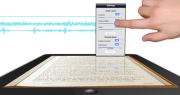 Have you ever wanted to listen along to the music of Beethoven as you finger-swipe through the pages of A Clockwork Orange on your iPad, or "enjoy" the novel's grisly action as audio sound effects? New York startup Booktrack is gunning for exactly this by adding musical scores and ambient noises to e-books.
Booktrack, which is partially funded by PayPal founder Peter Thiel of utopian island fame, adds synchronized soundtracks to ordinary e-books to "dramatically boost the reader's imagination and engagement," according to the Web site. Readers personalize their reading speeds on their iPhone, iPad, or iPod touch (and later, the Android-powered Samsung Galaxy Tab), and — at least theoretically — Booktrack's soundtrack keeps pace with story progression, adding ambient music and sound effects such as footsteps and ominously creaking doors.
Booktrack's bookshelf is sparse at the moment, but features some young adult novels like The Power of Six and The Ugly Duckling, with The Adventures of Sherlock Holmes for mystery lovers. According to The New York Times, Booktrack plans on adding short stories by Salman Rushdie and Jay McInerney in the coming months.
Sound distracting? Well, even previewing 30 seconds of a YouTube preview made me immediately want to shut my speakers off. Like Wired's Charlie Sorrel, I can't imagine enjoying a whole Booktrack novel without snapping an iDevice in half.
Still, the concept behind Booktrack is a novel one (pun possibly intended), and correlates to other evolutions in the e-book world, which before now has been mostly limited to e-ink readers and mobile devices. Push Pop Press, a company that created highly-interactive digital books, made headlines recently when Facebook (for some reason) acquired it. Before the acquisition, Push Pop Press created an interactive version of Al Gore's Our Choice that included text, audio, video, interactive graphics, and Gore's own audio commentary.
E-books with added interactive features and soundtracks may be the format's next step. And though many traditionalists will balk at the technology — just as many have, and still do, condemn Kindles — there could be some instances, such as Gore's book, where the addition is less an unwanted distraction and more a new way to explore a centuries-old storytelling platform.