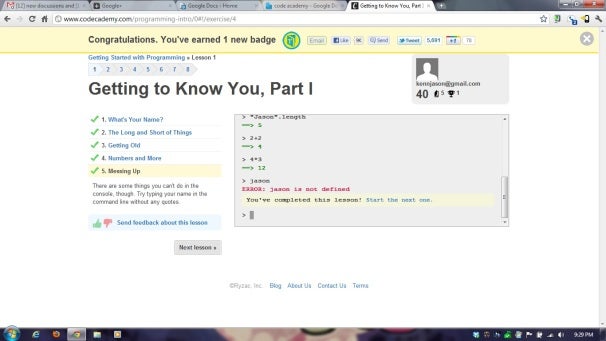 Did you ever want to be a huge nerd your whole life, but didn't know where to start? Don't have the shelf space for the O'Reilly books, or found the various "in a nutshell" books too dry? I think Codecademy has an offer you can't refuse.
It's an interactive site you start off simply with some naming conventions and math equations inside an interactive "terminal" window. It saves your progress if you make an account, and you gain Foursquare style "badges" for completing lessons that you can share on your favorite social media site.
The depth of the lessons look excellent, and the site is advertising a teacher beta once you log in, so if you want to contribute to the learning experience, you should absolutely get in touch with them. I'm intending to run through it in my spare time myself and have fun with it.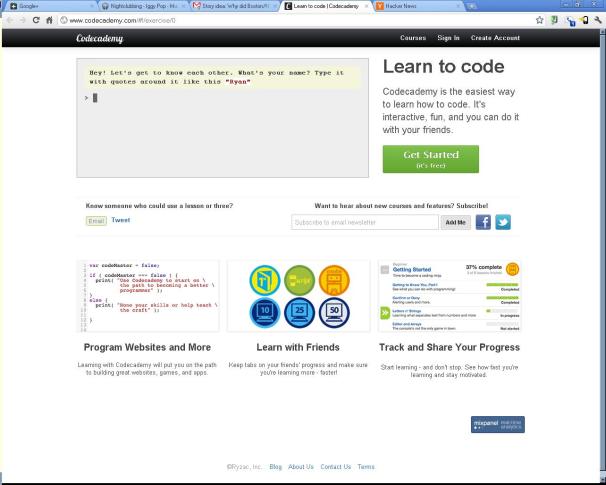 What about you? Is coding something you've always wanted to do, and would seriously debate now that it can be done as a fun, interactive process? That isn't to say that it won't be work. I'm currently on Lesson 5, "Editor and Arrays", and from the looks of it, you dive into real coding pretty quickly (I'm 55% done with "Getting started with programing").
As an old coder, however, the interface and interaction this site provides looks pretty invaluable. I've tried a couple times to get back into this or that language, and never been able to make myself deal with a textbook full of classes and lessons. This might be just the ticket for me, and for you.
Are you still here? Go, click!
[Update Oct 4, 2011: It's "Codecademy", not "Code Academy". Our apologies for the confusion.]
If you thought Jason had dropped off the face of the earth before, now that he's coding you'll probably never see him again. Keep aware of when he comes up for air over at Google+ or Twitter.
Like this? You might also enjoy…
Get your GeekTech on: Twitter – Facebook – RSS | Tip us off