Nokia has launched the 101, the company's most affordable dual-SIM phone to date, which allows users in developing countries to switch between two different networks to lower costs and expand coverage, the company said on Thursday.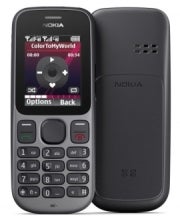 Following the Wednesday launch of Belle, an upgraded version of the Symbian OS, and three new smartphones, Nokia has set its sights on parts of the world were more advanced phones are still "science fiction," the company said in a blog post. In Africa and Asia many users have to contend with expensive data rates, lack of readily available power sources for charging and low incomes, Nokia wrote.
In these parts of the world other features including the ability to use more than one SIM card is more important. The Nokia 101 can use two SIM cards and will cost approximately $35 without taxes or operator subsidies when it ships in the third quarter.
The phone's SIM manager allows users to select which card to use to make a calls from, and it can also store the settings of up to five SIM cards. Each card can be personalized by assigning names and logos for each setting. That is a useful feature when several people share the same phone, which is commonplace in developing parts of the world.
The 101 also has an integrated music player, an FM radio and an integrated loudspeaker. Music can be stored on a MicroSD memory card, and a headset is included in the box.
Although the lack of competitive smartphones is the main reason for Nokia's current troubles, its lack of dual-SIM phones has also hurt the phone maker. Before the second quarter this year, the company's sales had suffered in markets such as India, according to IDC, but between April and June it sold 2.6 million dual-SIM phones — a positive sign for Nokia, IDC said.
The 101 is Nokia's fifth dual-SIM product in the last three months, Nokia underlined.
Besides the 101, Nokia also launched the 100 on Thursday. It will be even cheaper and cost about €20 without taxes and subsidies, making it Nokia's cheapest phone with a color display. It will start shipping in the fourth quarter, and also comes with an FM radio.
Send news tips and comments to mikael_ricknas@idg.com